The Olympus Tough TG-6, the latest in the company's highly regarded line of outdoor cameras, is available soon – and the fire-alarm red version will be a John Lewis exclusive in the United Kingdom.
The latest Tough is available in black as standard, but the bold red colorway – which makes the camera much easier to see and find in extreme locations such as underwater or in the snow – is only available from John Lewis.
Olympus Tough TG-6 Red Edition (John Lewis exclusive, UK)
Despite some similarities with its predecessor, we came away highly impressed by the incredibly robust camera.
"At first glance – and even second and third glance – the Olympus Tough TG-6 seems indistinguishable from the TG-5," we wrote in our Olympus Tough TG-6 review. "However, with a screen that's double the resolution, high speed video options and a new underwater mode, the TG-6 packs some worthwhile new features.
"… if you're looking for an outdoor camera that can go in the sea, get covered in sand, be dropped onto concrete, and still take pictures and video even in freezing temperatures, this is the best everything-proof camera out there."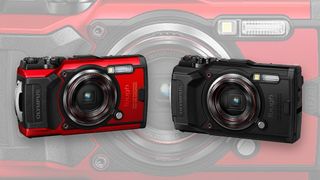 The TG-6 features a 12MP backlit 1/2.3" sensor that performs very well in low light conditions, including underwater. It shoots great 4K video at 30fps, 1080p at 120fps, and if you shoot at lower resolutions you can achieve super slow-mo of 480fps.
It's waterproof to 15m / 50ft, dustproof, shockproof1 to 2.1m / 7ft, crushproof up to 100kg / 220lbs, and freezeproof to -10°C / 14°F, and boasts some innovative new underwater modes that take advantage of its weather sealing.
The real star of the show, however, may well be its fantastic macro modes, with a ridiculous close focusing distance of 1cm – we could still focus on subjects as they were hitting the screen!
If you're looking for a great family friendly, all-weather and kid-proof camera, the Tough TG-6 is well worth investigating.
Read more:
Olympus Tough TG-6 review
The 10 best waterproof cameras
Best cameras for kids: child-friendly family cameras