Datacolor, the company behind the popular SpyderX range of colour calibrators, has launched a line of complimentary accessories for a richer, more comprehensive user experience when getting your monitor's colours bang-on. The company has also released a couple of bundles, complete with a SpyderX and selected accessories. Here's what's on offer…
Spyder Tripod (£12.99)
Stabilize cameras for clear, sharp images in low light and long exposure situations. Perfect for night time photography, video and vlogging. Flexible legs, lightweight portability, compatible for use with SpyderX calibrator, Spyder Cube and Spyder LensCal.
Spyder Tripod Pro (£22.99)
All the features of the Spyder Tripod, plus comes with a GoPro mount, smartphone holder and Bluetooth Universal Remote with battery.
Spyder Shelf (£12.99)
Allows you to attach SpyderX to the top of your monitor to ensure monitor light won't affect the reading of the room's ambient light. Affords additional desk space.
Spyder USB-C (£9.99)
A USB-C cable is needed to connect a SpyderX monitor calibrator to computers that only have USB-C ports. The USB-C cable is compatible with Mac, PC, and Android devices and iPad Pro.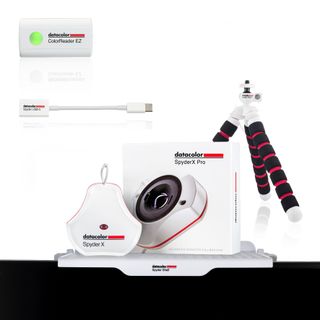 Additionally, Datacolor has packaged some of these accessories with its most popular products to create photographic tool kits that streamline and enhance your workflow while adding purchasing convenience and cost-savings.
SpyderX Create Kit (£239.00)
Capture colour inspiration, ensure colour accuracy and sharp images, connect with newer devices, and add extra storage space to your work area. Kit includes: SpyderX Pro, ColorReader EZ, Spyder Tripod, Spyder Shelf and USB-C cable. The SpyderX Create Kit is now available exclusively on Datacolor's website for a limited-time introductory price of £175.
SpyderX Mobile Pro Kit (£209.00)
The perfect collection for location shoots. Ensure colour-accurate images that have crisp, well-defined shadow details with portable tools that go wherever your photography takes you. Kit includes: SpyderX Pro, Spyder Cube, Spyder Tripod Pro and USB-C cable. The SpyderX Mobile Pro Kit is now available exclusively with WEX for a limited-time introductory price of £159.
Read more
How to colour calibrate your monitor with a Datacolor SpyderX