Panasonic has officially launched the LUMIX S 70-300mm F4.5-5.6 MACRO O.I.S. L-mount telephoto zoom (S-R70300) first revealed back in November 2020, along with four new compact prime L-mount lenses. Unlike Panasonic's constant-aperture 70-200mm lenses, this one is 50% longer at the telephoto end of the range, but comes with a variable maximum aperture of f/4.5-5.6.
Nevertheless, Panasonic says that this lens is built with professional photographers in mind, and the specifications certainly seem to support that, with an advanced optical layout, dual image stabilisation and 480fps AF drive.
It should appeal to owners of the Lumix S1 and Lumix S1R looking for a longer telephoto zoom than the existing 70-200mm lenses, but also to owners of the entry level Lumix S5 aiming to expand their lens system without too much expense.
Panasonic's L-mount Lumix S lenses are not compatible with its smaller Lumix G Micro Four Thirds cameras.
Optical design
The Panasonic LUMIX S 70-300mm F4.5-5.6 MACRO O.I.S. is built with 17 optical elements in 11 groups, and includes a number of advanced lens elements. In addition to two ED (extra low dispersion) elements, there is one UED lens element (ultra extra low dispersion) and one UHR (ultra high refractive index) element to give uniform sharpness from the center to the edge of the frame and a smaller lens design overall.
Chromatic aberration can be a serious issue with telephotos, and the optical layout is designed to minimise it, suppressing axial chromatic aberration (bokeh fringing) at the long end of the zoom range and regular lateral chromatic aberration at the wide end.
Panasonic claims "highly descriptive" performance and "beautiful bokeh" throughout the zoom range.
The variable f/4.5-5.6 maximum aperture might be seen as a drawback, but in fact there's only a 2/3 stop variation between the two extremes – Panasonic might just have well made it a constant-aperture f/5.6 lens and be done with it, you might think.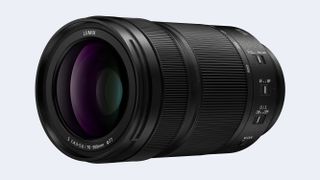 Dual image stabilisation and high speed AF
This lens has its own optical image stabilisation (O.I.S.) system that works alongside the in-body stabilisation of Panasonic's Lumix S cameras to give a combined value of 5.5 stops compensation. It's not the highest figure we've seen for a hybrid system, but if it proves effective and reliable, it's very welcome.
Panasonic's persistence with its own DFD (depth from defocus) contrast based autofocus is more controversial, as many feel its performance lags behind phase detect systems for some subject types, but Panasonic has included a high-speed 480fps focus drive system, so that while it still relies on to-and-fro contrast checking, it should do it very quickly indeed.
Panasonic says the AF performance and "exceptional" zoom tracking performance will keep subjects in sharp focus to the standard needed for professional grade video footage, and that focus breathing is minimised.
Focus breathing is where the magnification of the subject changes as the focus changes. It's not an issue for stills photography but can stick out like a sore thumb in video.
'Macro' capability
The Panasonic LUMIX S 70-300mm F4.5-5.6 MACRO O.I.S. does have 'macro' in the name, but like many zooms with this feature, it doesn't actually offer a 1x magnification ratio. It can, however, reproduce objects at 0.5x life size at its maximum focal length of 300mm, which is often as close as most of us need to get.
The minimum focus distance is quoted as 0.54m, but specifically at the wide end of the zoom range. This suggests to us that the minimum focus distance increases with the zoom setting, but that 300mm still gives the best magnification.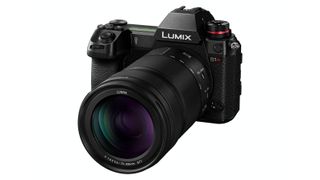 Physical design
The LUMIX S 70-300mm F4.5-5.6 MACRO O.I.S. has an 11-bladed diaphragm with a circular aperture to produce a rounded bokeh effect with unfocussed lights. It's unusual for a telephoto lens of this type to have so much much emphasis on bokeh.
This lens is also dust and splash resistant and designed to work down to temperatures of -10 degrees Centigrade. It also has a fluorine coated front element to repel water and oil.
Panasonic LUMIX S 70-300mm F4.5-5.6 MACRO O.I.S. price and availability
The new lens goes on sale in April 2021 at an expected retail price of $1,249.99. That's not cheap, exactly, but it's refreshingly realistic given the price of some of Panasonic's more exotic L-mount lenses, and will certainly tempt amateurs and enthusiasts, not just professionals.
• Pre-order the Panasonic LUMIX S 70-300mm F4.5-5.6 MACRO O.I.S. from Adorama
Read more:
• Best Panasonic cameras
• Best L-mount lenses
• Best telephoto lenses
• Lumix S 70-200mm f/2.8 review
• Lumix S 70-200mm f/4 review