The Panasonic Lumix S lens range continues to grow, with the announcement of a new 70-300mm f/4.5-5.6 telephoto zoom and four new fast prime lenses.
All five lenses are simply 'in development', so we don't yet know when we will get them or what they will cost, but they promise to take the Lumix S range in a new, compact and hopefully more affordable direction.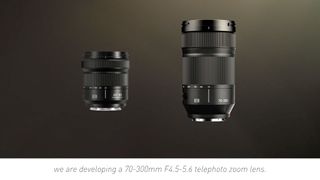 Panasonic Lumix S 70-300mm f/4.5-5.6
This variable aperture telephoto zoom looks like it's aimed at the amateur market, and matches similar affordable zooms for other brands. It's a departure from the company's more expensive Lumix 70-200mm f/2.8 and Lumix 70-200mm f/4 pro lenses designed for its high-end Lumix S1, Lumix S1R and Lumix S1H cameras, and we expect it to be significantly cheaper – and the ideal companion for the new Lumix Z5 and its super-wide 20-60mm kit lens.
the 70-300mm focal range does give it more reach than Panasonic's existing 70-200mm telephotos, but it's worth pointing out these can be used with Panasonic's DMW-STC14 and DMW STC20 teleconverters to extend their range to 280mm and 400mm respectively.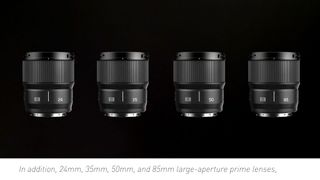 Panasonic f/1.8 primes
Apart from the Panasonic Lumix S Pro 50mm f/1.4 launched alongside the Lumix S1 and Lumix S1R, the Panasonic lens range has been notably devoid of prime lenses, leaving the door open for the extensive range of Sigma L-mount Art lenses. This is set to change.
Panasonic has announced the development of four f/1.8 primes, including a 24mm f/1.8, 35mm f/1.8, 50mm f/1.8 and 85mm f/1.8. The Panasonic presentation slides we saw show them as being all the same size, but it's not clear whether we were simply being shown representations of these lenses or their final design.
Either way, a set of four f/1.8 lenses will really beef up the Panasonic L-mount lens range, and will be especially appealing to photographers and videographers who like to travel light – maybe buyers of the new Panasonic Lumix S5, for example.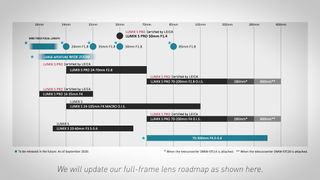 And there's more
The new Panasonic L-mount lens roadmap shows another two 'mystery' lenses with specifications that have yet to be revealed.
One is a 'large aperture wide zoom' in the same range as the current Lumix S Pro 16-35mm f/4 lens. We suspect Panasonic will be keen to add an f/2.8 version to match the 'trinity' of f/2.8 lenses offered by rival makers.
The other possible lens is a 'wide fixed focal length lens' to join the four prime lenses already announced. This lens would be wider than the 24mm f/1.8, but that's all we know.
Read more:
• Best Panasonic cameras
• Best L-mount lenses for Panasonic, Leica and Sigma mirrorless cameras
• Best professional cameras
• Best cameras for video
• Best full frame mirrorless cameras