Say it's not so! But with camera stores around the world listing the X-E4 as discontinued, we may have seen the end of the line for Fujifilm's excellent pocket powerhouse of a camera.
The Fujifilm X-E4 has had a short and troubled existence. Introduced by Fujifilm in January 2021 as the fourth iteration of the popular X-E series, (succeeding the X-E3). The X-E4 offered all the latest camera tech Fujifilm had to offer at the time, using the same sensor and processor as the then top-of-the-line camera – the Fujifilm X-T4.
However the X-E4 has had one of the most inconsistent stock levels of any Fujifilm camera, and that is saying something, considering Fujifilm has admitted it is three months behind on production of the uber-popular Fujifilm X100V to meet sales demand. Fujifilm seems in more trouble than any other manufacturer currently, with a quick check of stock levels on other cameras in its range also looking woeful.
• Fujifilm X-E4 vs Fujifilm X-S10: how do you decide?
The pandemic and supply chain shortages hit everyone hard, but it seems that Fujifilm has not bounced back as strongly as others. Although cameras like the Canon EOS R5 and Panasonic S5 II have also been victims of the supply chain nightmare.
I managed to purchase an X-E4 last year, although I had to wait over a month from the purchase date to receive my camera, while the camera was never displayed on the store's website as in stock, suggesting that demand has exceeded supply for quite some time.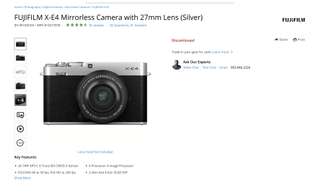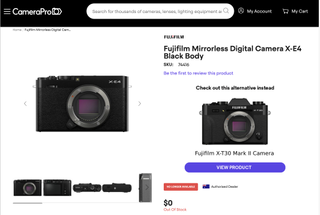 The camera can still be bought or ordered in some places (see below), but stores are either showing the camera as being on backorder - or simply as no longer available at all.
The X-E4 is a beautiful camera, with a build quality reminiscent of classic rangefinders, it is the X100V for anyone who wants interchangeable lenses. This might offer a glimpse into why Fujifilm has not been able to maintain stock, with a huge appetite for cameras that are both good at social content and look good in social content. Super compact and very lightweight, weighing just 364 grams, the X-E4 is an excellent option for travel and street photographers.
The X-E4 is a fantastic little camera that produces quality results, it has a 26.1-megapixel APS-C sensor, a fast X-Trans III image processor, and a hybrid autofocus system with 425 phase-detection points. It can shoot up to 8 frames per second with continuous autofocus, and it has a 10-bit internal video recording capability. The X-E4 also has a 3-inch touchscreen LCD monitor and a 2.36-million-dot electronic viewfinder.
This discontinuation might suggest that a new Fujifilm X-E5 is on the way, although we have not heard any specific rumors to attest to this. Fujifilm Spain did manage to leak that two X series cameras are on the roadmap for this year, so while not the most likely candidate, one of these could be an X-E5. It would be a surprise if Fujifilm completely discontinued the X-E line, but if production capacity is needed elsewhere, then maybe the X-E4 is the sacrificial lamb.
Stay up to date with all the latest Fujifilm speculation in our Fujifilm rumors hub. You can also find our guides to the best Fujifilm cameras and the best Fujifilm lenses.