Fujifilm has recently launched two very exciting mirrorless cameras. The most recent is the compact rangefinder style X-E4, while late in 2020 Fujifilm launched the DSLR-style X-S10. Both are mirrorless cameras with 26-megapixel APS-C sensors and similar image processing and movie options, so how do you work out which of these two cameras to get?
There are probably dozens of tedious and tiny differences buried in the specs, but we've picked out what we think are the five biggest and most important differences. These are partly to do with features, but also about how these cameras are designed and the type of photographers they might appeal to.
So here goes…
1. Design
• Fujifilm X-E4: compact 'rangefinder' design
• Fujifilm X-S10: mini 'DSLR' design with grip
Mirrorless cameras come in two design styles. 'Rangefinder' style cameras have a simple, compact rectangular design with the viewfinder (if there is one) built into the top left corner of the camera body at the back. This is the design style used by the Fujifilm X-E4, which helps contribute to its small size and neat, unfussy exterior.
Rangefinder cameras may be neat and stylish but they're not so easy to grip, especially with larger lenses, which is why DSLR-style bodies are also popular. With this design, the viewfinder is on the top of the camera (just like an actual DSLR) and there is usually a grip on the left hand side at the front. This is the style used by the Fujifilm X-S10. It offers better handling and better grip, especially with larger zoom lenses, but there is no way this is a jacket pocket camera in the way the X-E4 can be.
2. Image stabilization
• Fujifilm X-E4: None
• Fujifilm X-S10: In-body stabilization
Like the majority of past Fujifilm cameras, the Fujifilm X-E4 does not have image stabilization built in. We assume this is because the camera's size does not allow room for the mechanism. The upshot is that with this camera you need to pay more attention to the shutter speeds to prevent camera shake. However, many Fujinon zoom lenses have stabilization built it, and the small prime lenses that will be a good match for this camera have wide lens apertures, which will allow faster shutter speeds anyway.
The Fujifilm X-S10 does have in-body stabilization. It's only the third X-mount camera after the X-H1 and X-T4 to have this, and the first enthusiast model. This gives you a good safety net when shooting with longer lenses or in very low light, and while image stabilizers are extra insurance rather than a guarantee of sharp shots, they're still desirable. The X-S10 has a clear advantage over the X-E4 here… though against that is the fact that it is a bigger camera.
3. Rear screen
• Fujifilm X-E4: Tilting touchscreen
• Fujifilm X-S10: Vari-angle touchscreen
The tilting screen on the Fujifilm X-T4 is very useful to have both for stills photography and for video… but only when you are shooting with the camera held horizontally. A tilting screen like this does not work with the camera held vertically.
The Fujifilm X-S10, by contrast, has a fully vari-angle screen that flips out sideways and can be angled in any direction. This gives you a lot more flexibility, especially for vertical shots, and you can also fold the screen flat against the camera body with the screen facing inwards to protect it and just use the viewfinder.
A vari-angle screen is more desirable for flexibility, but there is another factor. Many photographers actually prefer a simpler tilt mechanism because the screen stays in line with the lens. With a vari-angle screen, the view is off to one side. Not only that, it can be disorientating as you try to change the framing.
4. External controls
• Fujifilm X-E4: shutter speed dial
• Fujifilm X-S10: mode dial
Fujifilm established its reputation as a premium camera maker by reverting to the external exposure controls of classic film cameras, with most (though not all) lenses having external aperture rings, and the camera bodies having an old-school shutter speed dial (and sometimes an ISO) dial on the top.
The Fujifilm X-E4 sticks to that tradition. The ISO is set on the screen, but there's a shutter speed dial on the top and almost all of the prime lenses you might use with this camera (and many zooms) have aperture rings. If you like this kind of external control – you can change settings even when the camera is switched off – the X-E4 is great for traditionalists who like control.
The Fujifilm X-S10 is much more conventional. We've been told by Fujifilm that it is trying to reach a wider audience with this camera, and one that might be put off by the manual controls on the X-E4 and other models. The X-S10 has a regular PASM mode dial rather than the shutter speed dial of the X-E4 – though many lenses you use with it will still have aperture rings.
5. Kit lens options
• Fujifilm X-E4: XF27mmF2.8 R WR
• Fujifilm X-S10: XF18-55mmF2.8-4 R LM OIS or XF16-80mmF4 R OIS WR
Initially at least, the Fujifilm X-E4 will be sold with a new Fujinon XF27mmF2.8 R WR pancake prime lens. Including a prime lens as a kit lens is a bold choice, but this lens's ultra-slim profile suits the X-E4 perfectly. Alternatively, you can buy this camera body only and choose your own lenses.
The Fujifilm X-S10 currently comes with a choice of kit lenses. The XF18-55mmF2.8-4 R LM OIS is the cheaper option but very good, not least because it's very compact for a kit zoom. The more expensive XF16-80mmF4 R OIS WR lens is a lot larger but has a 5x zoom range, so it's also very versatile. Either camera-lens combination is good and, of course, you can buy the X-S10 body only if you already have lenses.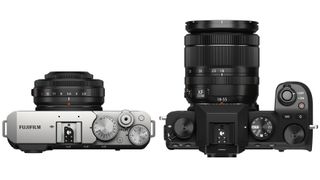 Fujifilm X-E4 vs X-S10: which one should you get?
Best for compactness: The Fujifilm X-E4 is a super-compact stripped-down rangefinder style camera that can slip into a jacket pocket, especially with its pancake 27mm f/2.8 kit lens. It will go well with Fujifilm's other smaller prime lenses, though you can of course fit any X-mount lens – but the bigger zooms might quickly make it feel unbalanced. You can get an optional handgrip for use with bigger lenses, but if most of your lenses are or will be zooms, the X-S10 with its good-sized grip could be the better choice.
Best for features: The Fujifilm X-S10 has a pretty hefty grip for a small camera, so it's the best choice if you are going to use zooms a lot, especially larger ones. The in-body-stabilization is a major advantage over the X-E4 and and you get a fully vari-angle screen too, and not just a tilting screen. However, the X-S10's body doesn't have the same retro appeal as the X-E4, and it doesn't have the classic shutter speed dial of the X-E4, using a regular mode dial instead. The X-S10 ticks more boxes for enthusiast, but has become more generic along the way.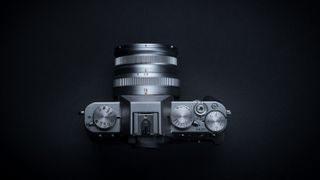 Don't forget the Fujifilm X-T30!
The Fujifilm X-T30 is older than both these cameras and we don't yet know if there will be an X-T40. It's not as small as the X-E4 and it doesn't have the in-body stabilization of the X-S10. However, the X-T30 still has a lot to offer, including a very compact SLR style design but with classic controls and Fujifilm's latest 26MP X-Trans sensor. Given all this, it's pretty good value for money right now, offering a lot of class for not a lot of cash.
How we test cameras
We test mirrorless and DSLR cameras both in real-world shooting scenarios and in carefully controlled lab conditions. Our lab tests measure resolution, dynamic range and signal to noise ratio. Resolution is measured using ISO resolution charts, dynamic range is measured using DxO Analyzer test equipment and DxO Analyzer is also used for noise analysis across the camera's ISO range. We use these real-world testing and lab results to inform our comments in buying guides. For compact cameras and phones, we judge on real world handling and photographic results alone.
Read more:
• Best Fujifilm cameras
• Fujifilm X-S10 review
• Best Fujifilm lenses
• Best mirrorless cameras
• Best cameras for enthusiasts