Four new cameras are on the way, starting in May, that Fujifilm says will "disrupt" the industry.
In a presentation for the Instax Mini 12, Fujifilm Spain accidentally included a slide showing the next four potential cameras coming soon. It is unclear if this was a global presentation, or if the slide was added by Fujifilm Spain, with other countries managing to not make the blunder, but it is safe to say that this is a pretty accurate roadmap. Fujifilm Spain also managed to let even more slip, by describing these cameras as "disruptive".
• Some of the best Fujifilm cameras have definitely disrupted the industry over the years
In the slide it can clearly be seen that two cameras are listed for a May release, and two for September. Each question mark placeholder lines up with two rows on the chart, one for Fujifilm X-mount cameras and one for Instax cameras.
While this chart is clearly not an exact science, it can reasonably be assumed that this will mean that we will see two X-mount cameras and two Instax cameras, with one of each coming in May and a second in September.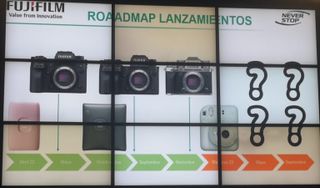 What exactly we will be seeing from Fujifilm, we are still none the wiser – but we can certainly make some educated guesses with a couple of Fujifilm's most popular cameras due to upgrade.
For the Fujifilm X-mount cameras, the most likely candidates would be a Fujifilm X-Pro4. With the Fujifilm X-Pro3 unofficially discontinued, and not available from many stores, X-Pro is an important range for Fujifilm and would be the prime candidate for its latest 40MP sensor, we would be surprised if it didn't make a return.
A second X-series camera is harder to predict, with both the Fujifilm X-E4 and Fujifilm X-T30 II being overdue an upgrade. Both these cameras could also see the company add its latest sensor tech and processor, while keeping each camera's niche of smaller and less equipped bodies, but with cheaper price points.
The Instax cameras are a bit more of a wildcard. Both the Instax Square SQ1 and Instax Wide 300 cameras are getting harder to find in stores, with Fujifilm concentrating on the Instax Mini range, but these formats are still popular for their larger and more detailed photos and are overdue a comeback with new models.
Whatever these cameras turn out to be, with May just around the corner, we suspect that leaks will start dripping out soon.
You can find more from Fujifilm with the best Fujifilm cameras and the best Fujifilm lenses. Or for the best from Instax, check out our guide for the best instant cameras.