Fujifilm's medium format GFX cameras are beautiful but expensive. The next step up from full frame mirrorless cameras a DSLRs, they are relatively cheap for medium format cameras but a massive outlay compared to regular consumer models. So if you can save a little money on lenses later, that's got to be a bonus.
Even better, this lens offers a wider angle of view than any other GF mount lens, even those offered by Fujifilm itself.
Currently, the widest lens in the Fujifilm range is the GF23mm f/4, which is roughly equivalent to 18mm in full frame 35mm camera terms. That's wide… but nowhere near as wide as the new Laowa 17mm f/4 Zero-D.
The Laowa is also considerably cheaper. We love the Fujifilm GFX 100 and GFX 50R, which we think are amongst the best medium format cameras now available (and among the best cameras for pros) but these are expensive cameras, and while you're obviously going to want the best lenses to go with them, any opportunity to save some cash has got to be good.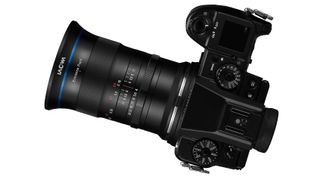 How wide is the Laowa 17mm f/4 Zero-D?
This lens is equivalent to around 14mm on a full frame camera, which is very wide indeed. Even better, The Laowa 17mm f/4 Zero-D will go on sale at around $1,200, which is less than half the price of the $2,600 Fujifilm GF23mm f/4.
The Laowa lens is manual focus only, unlike the Fujinon lens, so careful focussing will be essential at wider apertures and shorter focus distances. Having said that, with ultra-wide-angle shots it's often depth of field that you need, so manual focus is important – and the Laowa has a long-travel focus ring with depth of field index markings for different apertures to make depth of field control easy.
We haven't seen this lens yet to comment on its performance, but Laowa's Zero-D lenses are designed specifically to eliminate optical distortion – often a serious problem in lenses this wide. We were certainly impressed by the Laowa 9mm f/2.8 Zero-D for APS-C mirrorless cameras.
The advanced design used for the Laowa 17mm f/4 Zero-D has 21 elements in 14 groups. It has an unusually long and narrow shape for such a wide lens, but the design has allowed for the use of regular 86mm front-mounted filters.
Background, pricing and availability
Laowa is a brand of Chinese company Venus Optics. It offers a series of low-cost alternative lenses to fit many camera brands. Laowa lenses might be (relatively) inexpensive, but they use advanced and ambitious optical designs. Laowa's main speciality is back-to-basics prime lenses with no autofocus, but with a clear emphasis on optical and mechanical engineering.
The Laowa 17mm f/4 Zero-D is available from mid-August 2019, at an expected price of $1,200, though pricing may vary according to territory.
Read more:
• Turning pro? These are the best cameras for professionals
• Medium format is back! These are the best medium format cameras right now
• Here's our list of the best mirrorless cameras on the market