LaCie chose IBC 2019 to reveal three different portable SSD drives to its Rugged range – offering back up and archiving solutions for photographers and vloggers on the move.
The LaCie Rugged BOSS SSD is designed to be the ideal all-in-one back-up drive when travelling light, or when on location. With a built-in SD card reader, it can copy your images to its one terabyte solid state drive - and show you the progress of the backup process via its built-in display. But the clever bit is that you can then view and check the images you have shot by connecting the device to your phone or tablet, using the free app; micro USB and Lightning cables are provided with the unit to make this happen. The result is that you no longer need your laptop when on location.
The final party trick is that Rugged BOSS SSD has a built-in power bank, so can top up the battery or your smartphone or camera whilst you are on location. It can also be used to copy images to a third device.
SSD drive provides transfer rates of up to 430MB/s - and as usual with the distinctive orange-cased Rugged range, the unit is drop, dust and water resistant.
The 1TB Rugged BOSS SSD will retail at $450.
LaCie Rugged SSD Pro and Rugged SSD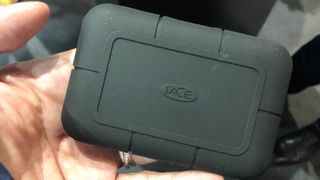 Also launched are two more miniature-sized all-terrain SSD drives. The palm-sized Rugged SSD Pro offers Thunderbolt 3 and USB 3.1 compatibility - offering transfer speeds of up to 2800MB/s. It claims to take all the hard knocks of a traveller with IP67-rated dust and water resistance, three-meter drop tolerance, and two-ton car crush resistance. It will cost $399.99 for 1TB version and $699.99 for the 2TB option.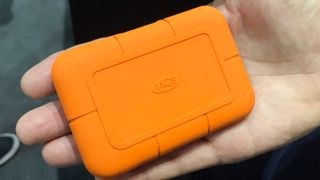 The more affordable Rugged SSD comes with a Seagate FireCuda NVMe SSD inside, providing speeds of up to 950MB/s via USB 3.1 Gen 2. This version features Seagate Secure self-encrypting technology with password protection, ideal for those that need project confidentiality. The Rugged SSD will be available in three capacities costing $179.99 (500GB), $299.99 (1TB) and $499.99 (2TB).
Read more:
The best portable hard drives for photographers in 2019