UPDATE: It looks like the modular Insta360 One R will be officially announced on Tuesday, after Insta360 sent out an email teaser campaign and posted a hype video on YouTube.
"What do you get when you combine a drone, an action cam, a ONE X and an ultra-compact camera?" reads the Insta360 One R email blast, shared by Photo Rumors. "Our next camera. Coming January 7."
A logline, "Adapt to the action", is now proudly emblazoned on the Insta360 website, which also points visitors to the below teaser video on YouTube. We're looking forward to finding out more on Tuesday!
ORIGINAL STORY: Yes, it may be the start of a new decade, the UK might be leaving the EU this month, and impeached President Trump might be facing moves to kick him out of office, but none of that matters, because an image of the brand new Insta360 One R action camera has been leaked – and it looks like a modular marvel.
Sometimes camera updates can be relegated to mostly internal adjustments, with little to physically show for the upgrade. However, that doesn't seem to be the case with the Insta360 One R; the company has created an innovative new design that shows off an exciting modular system that could be one of the best 360 cameras.
• Read more: Insta360 Go review
Website Nukemiri posted the leaked images and advised that the photos came from an article posted accidentally by PHILE-WEB that has now been taken down. They also stated that Insta360 has applied for FCC ID, which is a certification for communication equipment in the United States.
In yet another sign that Insta360 might be soon preparing to launch this new product, it has also acquired a trademark for the product in China.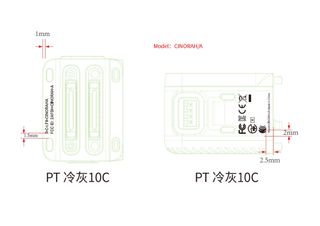 While the previous Insta360 ONE X was shaped almost like a mini TV remote, the insta360 One R has gone in a totally different direction. While we're only basing this off the leaked image, it appears as if there are two camera modules that can slot together. A third red module (which perhaps functions like a battery grip to provide power?) then slots underneath the two.
We assume that each camera module also has a LCD screen on the back, which means you can see what each camera is filming. It appears that at least one of the camera modules has a slot (although we assume both would) that seems to house some kind of port (perhaps for charging or transferring files).
We assume that the reason to have a modular system is so that you can choose to use the Insta360 ONE R as either an ordinary action camera or a 360 camera, just like the GoPro Max 360 does (although the GoPro comes as one singular unit).
Unfortunately there is one dark cloud to this otherwise shiny silver lining. While this brand new design certainly looks exciting, previous Insta360 One X users might be disappointed that their previously-purchased waterproof cases won't fit the new system.
However, all in all this looks like a great update. We can't wait to find out more information - and we'll of course keep you updated as soon as we hear it!
Read more
Best action cameras in 2020: action cams you can take just about anywhere
Best waterproof camera in 2020: underwater cameras for fun and action
microSD card deals: best buys on memory cards