The upcoming Nikon Z8 has been a known entity for a long time now, with numerous rumors and leaks confirming its existence. Now we have been treated to the most significant leak yet, with almost everything you'd want to know about the upcoming camera being revealed.
Thanks to information from Nikon Rumors we know that the Z8 will share a lot of similar specs with the Nikon Z9, although it won't quite be able to keep up with its powerhouse of a big brother. The Nikon Z8 will also have a form factor that is much closer to the shape of the Nikon Z7 II, rather than the Z9, with the latter's built-in vertical grip.
• Read more: check out the latest best professional cameras from Nikon and co.
The leaked specs suggest the Nikon Z8 will weigh under 1kg and measure 144x118x83mm (5.6x4.6x3.2in). The Z8 will have a 3.2-inch tilting LCD rear screen, and either a 3MP or 9MP electronic viewfinder. You can view the first leaked image of the new Nikon Z8 below.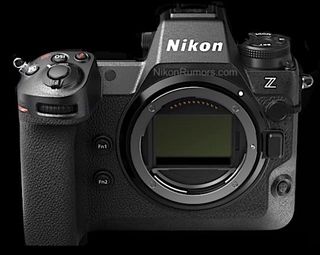 For internal specs, the Nikon Z8 is rumored to feature a 45.7 megapixel stacked sensor, capable of 20 frames per second when shooting in RAW or 120 frames per second when shooting JPEG only, with a maximum shutter speed of 1/32000. The Z8 is reported only to have an electronic shutter, forgoing the delicate and much slower manual shutter, this is a trend becoming increasingly more common across the industry.
The Z8 can also reportedly record in 10-bit HEIF image files, HEIF images have a better compression algorithm than JPEGS, so can achieve similar file sizes to JPEGs but record much more detail.
For video, the Nikon Z8 will be capable of 8K video at 60p or oversampled 4K footage. The sensor will also be image stabilized with up to 6 stops of stabilization from its 5-axis in-body system, which will be a big help when shooting handheld video, especially at higher resolutions.
The Nikon Z8 sensor is reportedly capable of ISO 64-25,600, although we suspect that this number will be a lot higher when you take into account manually increased speeds. The sensor will use 493 autofocus points with all the latest Nikon subject tracking and recognition algorithms powering the autofocus.
For memory options, the Nikon Z8 looks set to include one CFExpress card slot and one regular SD slot. The body is going to be weather sealed, with Nikon Rumors' source saying it will be to the same level as the Nikon D850.
Nikon is allegedly aiming for this camera at prosumers as a "mini Z9", and the Z8 will also have a pro-level price, apparently costing around $5000/£4800. The Nikon Z8 should also be with us very soon, with Nikon reportedly gearing up for a big marketing campaign, with launch events starting in the next couple of weeks. We will hopefully get more information the closer we get to the final reveal.
You can find out more about Nikon in our Nikon rumors hub. You can also check out the best from Nikon in our guides to the best Nikon cameras and the best Nikon lenses.