The Huawei Mate X Pro is one of the most jaw-dropping devices ever to be revealed at MWC 2019.
It's both a tablet and a smartphone and it's got some imaging prowess to boot.
Digital Camera World was lucky enough to get a quick glimpse of the Mate X at MWC and it is a device that follows Huawei's camera phone mantra and doesn't scrimp on the imaging side of things. Essentially, this is the best camera phone that folds right now.
The way it works is that it's one OLED screen that essentially folds down the middle and creates two separate screens when completely folded.
When folded, the Mate X has a front-facing 5.6 inch screen (2480 x 1148 / 19.5:9 aspect ratio).
That's complimented by a secondary back screen measuring 6.38 inches (2480 x 892 resolution / 25:9 aspect ratio).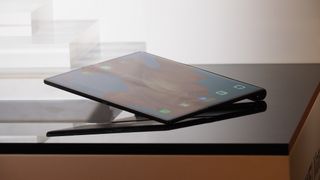 When it's folded out into a tablet, the screen becomes an 8-inch tablet.
When you flip the device over, there is a black bar that acts as a grip when in tablet form. But this is also where the cameras lie. Huawei is using Leica lenses here. re-enforcing its commitment to the lens giants.
The actual size of the sensors is currently unknown but Huawei promises: "the latest Leica cameras, supporting the most advanced imaging features to date."
Foldable camera phone
Because of the way it's designed, this camera phone is one of the first to use the same camera for selfies and normal camera shots.
The extra screen means that it can act like a mirror for when you take a picture of someone. This lets them see themselves so they can prepare before you take an image,
Although Huawei didn't talk too much about using the tablet as a camera, you can also take images in this format but you will probably annoy those around you.
Having a tablet in your pocket, though, is good for when you want to preview images on the fly - previewing them on the bigger screen will mean you get a better idea of the quality.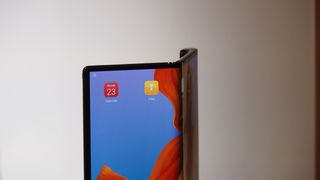 The Huawei Mate X is also 5G ready. It uses a Quad 5G antenna to connect to the 5G networks coming online this year, so expect superfast image uploading (read What is 5G? And what does it mean to photographers?). And there's a Kirin 980 processor on board.
Charging is superfast, too, with a 55w fast charger getting the battery to 85-percent power in just 30 minutes.
Huawei is being coy about the release date, but price wise it is a jaw-dropping 2,299 Euro for the variant with 8GB Ram and 512GB storage .
Read more:
Best camera phone
Samsung Galaxy Fold