Huawei has announced the Kirin 990 at IFA 2019, the chipset expected to be in the upcoming Mate 30 Pro, launching on September 19 in Munich. The Kirin 990 is also the world's second flagship 5G SoC and is the first to feature BM 3D, DSLR-level image noise reduction, not to mention dual-domain video noise reduction.
5G as standard
By combining a 5G modem and processor, the Kirin 990 is an all-in-one 5G SoC, by contrast to the main competition, Qualcomm's Snapdragon 855, which is comprised of two separate components.
With 7nm architecture, it's able to stay small and cool. What's incredible is that in this tiny chipset Huawei has crammed in over 10.3B transistors - more than on any other mobile chipset on the market.
Delivering download speeds of up to 2.3Gbps, and upload speeds of 1.25Gbps, phones loaded up with the Kirin 990 will be incredibly zippy.
5G coverage is sparse right now, as we experienced when reviewing devices like the Samsung Galaxy S10 5G, and 5G masts don't reach as far as their 4G counterparts do, and Huawei knows this. In turn, it promises faster download speeds in weak 5G signal scenarios for the upcoming Mate 30 Pro, as well as power-saving optimizations.
On fast-moving vehicles, Kirin 990 phones should also handle jumping from one mast to another better than the competition, and require near 4G power even when on a 5G network.
• Hands on: Huawei Mate 20 X 5G review
Performance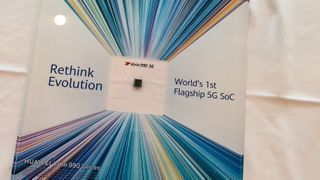 The octa-core Kirin 990 features two big cores clocked at 2.86GHz as well as two medium-sized cores, and four small cores. Huawei claims its single-core performance is ten per cent higher than the likes of the Qualcomm Snapdragon 855, while the chip's multi-core performance is nine per cent higher.
It isn't just about power, it's also about graphics, and with a new 16-core Mali G76 GPU, the upcoming Mate 30 Pro should also tear through games and other 3D tasks, with 20% more efficiency and 6% more graphical clout than the Snapdragon 855.
What about the camera?
With its 5th Gen dual ISP architecture, the Kirin 990 is good news for upcoming Huawei phones. It's the world's first to feature BM3D image noise reduction, which Huawei suggests will deliver DSLR-grade noise-handling, improved by 30% compared to the Kirin 980. It's also the first to support dual-domain video noise reduction, which can reduce noise by up to 20%.
It isn't just the ISP that will boost Kirin 990 smartphones' photography experience, the AI processor should also deliver incredibly editing capabilities. With multi-instance segmentation, it has the power to remove multiple objects from a scene, swap out backgrounds accurately, and even resize subjects.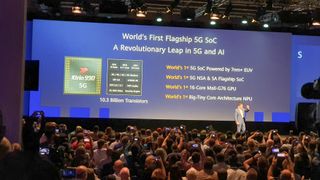 Mate 30 Pro and the Kirin 990 release
Launching on 19 September 2019, the Mate 30-series will launch in both 5G Kirin 990 and 4G variants. As for when it will be released, given the recent political turbulence between China and the US government, we know the phone won't launch with Google's Play Store or services, so whether this affects the release of the device and chipset itself is still unknown.
Check back on September 19 when we'll be reporting from the phone's launch and shedding some more light on Huawei's questionable future in the western smartphone market.
Read more:
The best camera phones in 2019
Best 5G phone for photographers in 2019
What is 5G? And what does it mean for photographers?
Best budget camera phone: the best cheap camera phones right now