It's easy to forget the Sino-American trade war when there's 5G around. Though technically already on sale in some markets, Huawei used IFA 2019 to put the Mate 20 X 5G – the Chinese brand's first 5G phone – in the hands of journalists and bloggers, DigitalCameraWorld included. It's selling for £999, which is about US$1,222 (though Huawei devices are not officially on sale in the US).
Huawei Mate 20 X 5G : design and features
Though the brand's much anticipated Mate 30 will launch on 19 September in Munich, for now the spotlight is on this 5G-ready device, which is a visually stunning device to behold. That's purely because of its immense size and massive 7.2-inch screen. It's a whopper. It's also an OLED, and looks fantastic close-up, boasting lush color and deep black, though its resolution is merely 1080p. At least that should save on battery.
That's key because one of the main differences between the Mate 20 X and the Mate 20 X 5G is the latter's slightly smaller battery. In the 4G version the battery is rated at a colossal 5,000 mAh, but the mission to insert a 5G chip has forced that down to 4,200 mAh. It's also got a slightly upgraded (to 40W) SuperCharge, which means a 20 minute top-up of the battery keeps it going for a day or so.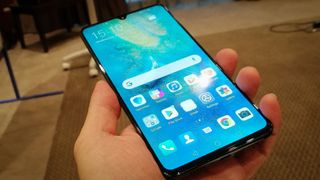 Aesthetically, the Mate 20 X 5G comes in one color; green, whereas the Mate 20 X is available in blue or silver. However, it's still got the ridged 'hyper optical' covering that makes a whizzy kind of sound when you run a fingernail along it. It's there for the grip, and in the hand that proved important. This is a heavy phone, and without the extra purchase that covering lends the mighty-sized Mate 20 X 5G, it could be kinda unwieldy.
Another difference between the Mate 20 X and the Mate 20 X 5G is the lack of a headphones jack. Yup, it's missing. It seems that 5G chipset has taken its toll on some of the niceties of Huawei phones, though that analogue port's days have long been numbered. Instead, audio comes via USB-C, which will be annoying to some, though it does allow 384 kbps audio. Happily, there's a 3.5 mm-to-USB-C adaptor in the box).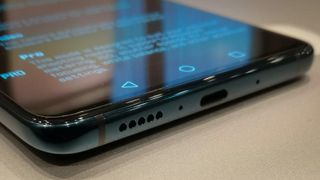 The audio system on the Mate 20 X is called Stereo Plus; instead of one big speaker on each side of the 4G version, this 5G model has one speaker on the bottom and, when the phone is turned into landscape mode, that activates the earpiece speaker to help create a stereo effect.
At 8GB, the Mate 20 X also has more RAM that its 4G variant. The Mate 20X has 256GB storage (plus a micro SD card slot that also supports Huawei's nano-memory cards),
Like its 4G version, this 5G model also supports Huawei's M-Pen 3 stylus, which was pretty sensitive in our tests allowing very thin lines from a light touch.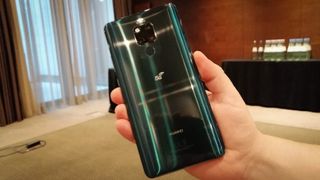 Huawei Mate 20 X 5G: 5G
Of course, the main difference is what's inside the Mate 20 X 5G. At its core is the Kirin 980 processor, but what's been added is the Balong 5000, which Huawei calls the "world's first multi-mode 5G chipset". That basically means that it can switch between various 5G network architectures. It can also accept 5G in both of its SIM slots.
Huawei Mate 20 X 5G: camera
When it comes to optics, there's not much that's new on the Mate 20 X, which uses – in Huawei's own language – "tried and tested hardware". It's actually the same Leica three-lens camera set-up and CMOS sensor as found on the Mate 20 Pro, that being a primary 40MP camera, a 20MP wide-angle sensor and an 8MP telephoto sensor. The latter has a 3x lossless zoom, and all the same modes such as night mode and HDR. The front-facing camera is 24MP, which also supports HDR. There's no time-of-flight (ToF) lens on the Mate 20 X's front camera, as found on the 4G version, so 3D scanning of the user's face isn't possible. The Mate 20 X 5G uses standard face detection tech instead.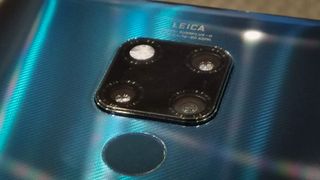 Huawei Mate 20 X 5G : early verdict
Adding a new 5G chip comes with physical constraints and performance risks, so Huawei has played it safe and not tinkered too much with the camera system on the Mate 20 X 5G. However, its Leica three lens camera set-up is pretty advanced and should still be considered flagship stuff … at least for now.
That 5G chip squeezes-off the headphones jack and slightly reduces the battery, but adds more RAM and support for two 5G SIMs. If next-gen connectivity is your goal, but you want to have an advanced camera system on your first 5G device – and you want a really (really) massive smartphone for gawping at your gorgeous photos – the Huawei Mate 20 X 5G looks to be a pretty safe bet.
Read more:
The best camera phones in 2019
Best 5G phone for photographers in 2019
What is 5G? And what does it mean for photographers?
Best budget camera phone: the best cheap camera phones right now