The Sony rumor mill is churning again, and this time it has surfaced what looks like the first specifications for the upcoming Sony A6700 premium APS-C camera.
The A6700 is the rumored replacement for Sony's bestselling Sony A6600 camera, a small pocket-friendly camera for travel, street photography, and video making, with an APS-C cropped sensor. The A6600 has become hugely popular as it punched well above its considerably small weight in both image quality and features. And according to the latest info from Sony Alpha Rumors, the new A6700 looks set to follow in this tradition.
• Read more: check out the best travel cameras for your next adventure.
Firstly, after a bit of back and forth on the name, (at one point this camera was rumored to be called the Sony A7000), it looks like Sony might have settled on a continuation of the existing naming strategy, with this new camera designated Sony A6700.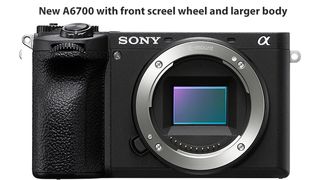 The camera looks set to feature the same sensor from the Sony FX30, which is a 26.1 megapixel stills sensor and is capable of 4k60p video and up to 4k120p video with a slight crop. The Sony FX30 is designed first and foremost as a filmmaking camera, so if an A6700 will carry over any of the other video-centric features remains to be seen, although each camera might just be marketed very differently, with the Sony A6700 aimed at a much more general user.
The A6700 will likely feature in-body image stabilization of up to 7 stops, as well as Sony's properly incredible AI processing and tracking algorithms that are utilized by the most recent Sony ZV-E1.
The body will remain much the same design as previous models, with a rangefinder-like shape with the electronic viewfinder to the left, but it will apparently feature a new scroll wheel on the front at the top of a new more substantial grip that will be 3mm deeper and 4mm taller than the previous model.
The Sony A6700 looks set to be announced at the beginning of July, although there is still no word on the price. The previous model walked the line between being a premium and affordable camera option for photo enthusiasts, although, with this rumored spec sheet, it is getting more difficult to see how Sony is going to keep the price down, with both the similar ZV-E1 and FX30 coming in at at least several hundred dollars more.
Find out more about the latest Sony speculation in our Sony rumors hub. You can also check out our guides for the best Sony camera and the best Sony lenses.