I'm currently writing this story using a 32-inch monitor. It's already so big that I can easily lose track of where the mouse cursor is (first world problems right there), so I really don't feel the need for any more screen real estate. Clearly someone at ASUS doesn't agree though, as it's just announced at the 2023 NAB Show a 135-inch monitor. No, that's not a typo. One hundred and thirty five inches of diagonal screen space. Naturally this isn't a monitor designed for your desk, unless your desk happens to be about 20 feet deep. Rather, the new ASUS ProArt Cinema PQ07 is intended for applications like home cinema, virtual productions, broadcasting, etc.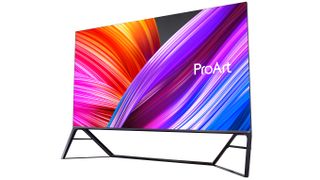 The colossal size also means the standard 16:9 aspect ratio and 4K (3840 x 2160) resolution has plenty of room to scale to different sizes and aspect ratios. But even a high definition resolution like 4K is spread pretty thin when covering an area this large, equating to only 32.64 pixels per inch (PPI) - compare that to the 137.68 PPI you get from a 32-inch screen with a 4K res. However, given the much longer viewing distances involved here, the pixel density should be sufficient to maintain a crisp image.
Elsewhere, the ProArt Cinema PQ07 boasts a 95% DCI-P3 color space coverage, proving that the ProArt range's reputation for image quality hasn't be compromised in the pursuit of outright size here. 10-bit color fidelity, HDR-10 support and a retina-searing 2000-nit peak brightness further enhance the monitor's appeal.
Of course now you want one, or at least want to know how many limbs you'd need to sell to buy one. Sadly pricing and availability have yet to be announced (that goes for all the products in this announcement) so your legs are safe for the time being.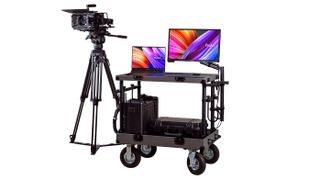 Another newly announced ASUS monitor that's likely to be far more affordable is the ProArt Display PA24US: a 23.6-inch display, yet still with a 4K resolution, making for an ultra-crisp pixel density. Like its 135-inch ProArt sibling, the PA24US supports HDR 10 and has 95% DCI-P3 color gamut coverage, while also being capable of an impressive 99% AdobeRGB support. Factory color accuracy is exceptionally good, with a Delta E of <1, and the monitor contains a built-in motorized colorimeter for self-calibration. There's also USB-C connectivity with up to 80 watts of Power Delivery, but what really sets this monitor apart is that it's ASUS's first ProArt display with SDI connectivity, making it ideal for real-time on-set previews and playback during a shoot.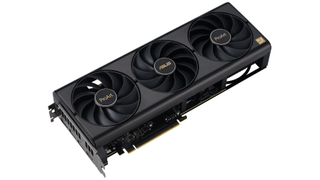 Also revealed on the ASUS stand at NAB 2023 are a pair of ProArt-branded graphics cards, namely the ProArt GeForce RTX 4070 Ti and ProArt GeForce RTX 4080. Though essentially the same as ASUS's more typical gamer-centric versions, these ProArt versions are distinguished by a sleek 2.5-slot form factor, Axial-tech fans with dual ball bearings for "higher airflow, lower noise, and increased durability", plus ASUS's Auto-Extreme manufacturing that "ensures the graphics cards are built to exacting specifications, ensuring the highest quality and reliability."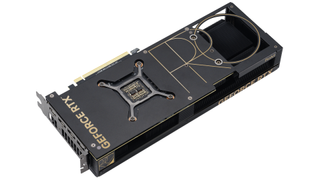 Read more: