The best monitor stands can place your computer monitor in the best ergonomic position, helping to protect your eyesight and posture over time. So they're really worth the investment in your future health, particularly considering how affordable they can be.
Also called monitor risers, they're basically little tables that sit on your desk, in a similar way to the best laptop stands. Elevating your monitor by a few inches so the top edge of the display becomes level with your eyeline, they help you to sit up properly and reduce the strain on your eyes too. So if your monitor's own stand lacks height adjustment, they're a good option.
An alternative approach could be to swap out your monitor's existing stand with a more adjustable monitor arm, although that is a lot fiddlier than just placing your monitor on one of these monitor stands. Especially as many of the latter give you extra space underneath for storing your keyboard, your mouse, or anything else that's getting in the way. Some stands even packs small in-built drawers and pots for additional oddment storage, while others can feature USB ports for smart device charging.
Read on, as we list the best monitor stands available today, and give you the information to help you choose the right one for you.
The best monitor stands in 2023
Why you can trust Digital Camera World Our expert reviewers spend hours testing and comparing products and services so you can choose the best for you. Find out how we test.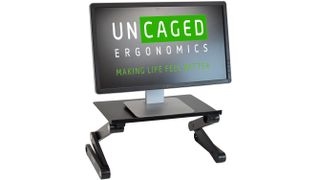 If you're after maximum possible height adjustability for your monitor, then look no further. Thanks to its scissor leg design, this stand is adjustable from a minimum 5cm height up to a towering 46cm. The top can also be tilted forward – which is particularly useful if you'll be using the stand to support a laptop rather than a monitor.
Inevitably for such a adjustable design, total payload is less than a fixed riser table at 5.9kg. But that's still enough to support most smaller monitors, and pretty much any laptop. The 46 x 28cm platform size is also a very practical size.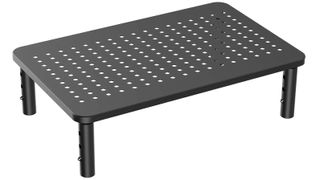 All a monitor stand really needs to do is lift up your monitor, and you don't need to spend big bucks to achieve something that simple. This cheap 37 x 23.6cm platform is plenty large enough for most monitors, and its 44lb/20kg weight capacity is also more than sufficent to support any screen.
What's more, despite being a budget stand, you even get three levels of height adjustment (9, 12 & 14cm). The powder-coated steel platform incorporates perforated mesh holes – ideal if you'll be using this stand for your laptop, as it allows cooling air to pass through to any vents in the laptop's base.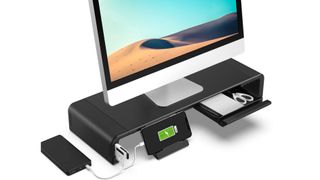 This monitor stand has it all. For starters, you can adjust its width to suit the space available on your desk by folding one or both legs inwards, giving you the choice between 16.53-inch, 18.5-inch, and 20.47-inch stand widths. What's more, the stand also packs a USB hub containing two USB 3.0 Type A ports, and a single Type C port, with the latter supporting 18W fast charging.
This is particularly useful, as right alongside the USB ports is a pull-out cradle that you can use to support a phone or tablet, right underneath your monitor in the perfect place for ergonomic visibility. Alongside this is a neatly concealed slim drawer ideal for storing pens, memory cards or USB flash drives. Despite the folding leg design, this is still a strong stand, boasting a huge weight capacity of up to 50kg.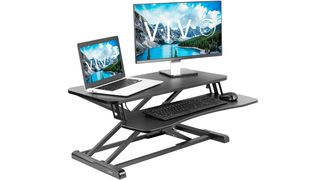 Raising your monitor using a basic monitor riser is a step in the right direction for ergonomics, but getting out of your desk chair and standing up is even better for your posture. The best standing desks are ideal for this, but they can be pricey, and take up precious office space. As an alternative, this clever riser sits on your regular desk, just like any other monitor stand, but can lift up extra high, effectively creating a standing desk.
Thanks to its clever lifting concertina scissor mechanism and gas lift strut, this stand can lift from 4.5 inches height (ideal for sitting), right up to 20 inches so you can stand in front of it and use your computer as normal. The integrated keyboard and mouse tray rises in sync with the monitor platform, and at 31.5 x 15.7 inches, the top surface is spacious enough to rest a large monitor and laptop alongside.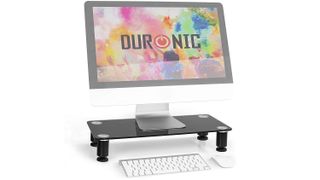 The standout feature with this monitor stand are its legs, which are height adjustable, so even if your desk isn't perfectly flat, you can get a perfectly stable and level base for your screen.
The height of each leg can be adjusted by up to 1.5cm, giving a platform height of between 11cm and 12.5cm, and each leg is finished with a non-slip rubber pad. The 63x25cm tinted tempered glass top gives a sleek, modern look, and it's rated to support a whopping 40kg of load – enough for any typical flatscreen display or laptop.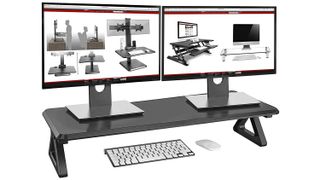 At 82cm wide, this stout wooden stand is big enough to support two 24-inch widescreen monitors side by side, a laptop and a standalone monitor alongside, or a total weight up to 10kg.
The height is fixed at 16cm, but that's enough for an appreciable lift in monitor height. And it creates enough space underneath for smaller desk essentials, or to tuck your keyboard and mouse away when not in use.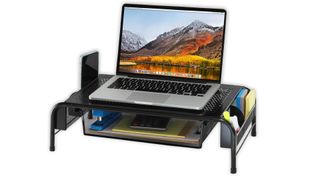 Just want something basic? This metal stand from the appropriately named SimpleHouseware delivers everything most people need from a monitor stand, at an affordable price. It raises your monitor to a confortable viewing height, has a sliding drawer tray underneath to keep your paperwork, and there are four side pockets for your phone, calculator, pens, and other bits and bobs.
There's nothing particularly clever about this: it can't be raised above or below its 14.7cm height. But it's cheap, well-made, easy to assemble, and does the basic job of a monitor stand perfectly well.
Read more
The best monitor arms
The best laptop stands
The best desks for homeworking
The best office chairs
The best portable monitors
The best monitors for photo editing
The best monitors for video editing
The best ultrawide monitor
Best 240Hz monitors
Best USB-C monitors for photo editing
Best keyboard for video editing
The best mouse for video editing
Everything photographers need to work from home
Best webcam for home working