Opportunities for photographing exotic wildlife in its natural habitat may be out of reach for a little longer, but in the meantime why not hone your skills closer to home?
This issue's cover feature will show you how, with a masterclass from pro wildlife photographer Graeme Green.
From technique and kit tips to advice on fieldcraft and clothing, there'll be something new to learn, whether you're starting out in this genre of photography or are an experienced shooter.
Remember that you can also buy Digital Camera online, or make great savings of up to 34% with a subscription.
Other highlights in September's Digital Camera
You'll find another cracking selection of projects in Photo Active – inspiration for your next shoot awaits courtesy of tutorials covering landscapes, nature, macro and more.
You can keep on keeping things local in Stay at Home, with projects including light painting and setting up a printing workflow. Plus, catch up with what Digital Camera readers have been shooting, in our six-page gallery.
A stack of quality images from the CEWE Photo Award – the world's biggest – awaits in Hotshots.
September's Camera College will help you to make waves with a deep dive into coastal photography.
Eight pages of expert advice awaits on capturing your best-ever seaside scenes, including tips on composition, colour, the choice of lenses and using filters.
Follow along with the tutorials then enter your best shot in the photo challenge, where one lucky reader can win a copy of Affinity Photo worth £49/$50.
The Photography Show & The Video Show returns to the NEC Birmingham on 18-21 September.
We mark the occasion by featuring two of the Super Stage star names: Olivia Arthur (this month's Pro in Focus) and Mark Power (Behind the Lens).
And staying on the subject of top professionals, Albert Watson takes us behind the scenes of his glittering long career, in this month's interview.
Find out how the Scotland-born legend developed his career, how he approaches his work and discover more about his new book, 'Creating Photographs'.
Also this month, explore the creative techniques on offer in our latest image editing tutorials covering Lightroom, Photoshop and Affinity Photo.
And find out how to use this issue's digital gift: 12 presentation actions for Photoshop CC. You'll be presenting your favourite photos as gallery-ready A3 and A4 prints in no time!
September's reviews section includes the Sony ZV-E10 vlogging camera, two impressive new macro lenses – the Canon RF 100mm f/2.8L Macro IS USM and the Nikkor Z MC 50mm f/2.8 – plus the Olympus M.Zuiko DigitalED 8-25mm f/4 Pro.
It's a flashguns face-off in the group test, and we also assess the merits of DxO PureRaw software.
The latest issue of Digital Camera comes with an unrivaled selection of digital gifts
This issue's digital gifts include 12 presentation actions for Photoshop; 54 minutes of bonus video tutorials covering Affinity Photo, Camera Raw, Photoshop and Lightroom; and a 262-page Camera Buyer's Guide ebook.
A preview booklet for The Photography Show (UK only) and a Skylum Skies Bundle for Luminar AI worth £45/$58 complete the bonus gifts line-up.
Here's the full line-up of the bonus gifts with issue 246:
Nine all-new photo tips cards on landscapes, wildlife, action – and more
Skylum Sky Pack and Templates bundle for Luminar AI worth £45/$58
32-page guide to The Photography Show & The Video Show
12 Photoshop CC actions for presenting and printing your images
54 mins of video tutorials for editing in Affinity Photo, Lightroom and Photoshop
262-page Camera Buyer's Guide eBook packed full of buying advice
Subscribe now
Every issue of Digital Camera magazine is packed with tips, techniques, pro advice, reviews, news and inspiration.
To make sure of your copy every month, subscribe at our online shop from just £12.50!
You can buy limited back issues of Digital Camera magazine in print at our Magazines Direct secure store.
Alternatively, there is a range of different digital options available, including:
• Apple app (for iPad or iPhone)
• Zinio app (multi-platform app for desktop or smartphone)
• PocketMags (multi-platform app for desktop or smartphone)
• Readly (digital magazine subscription service)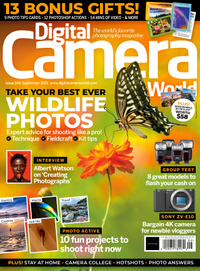 Digital Camera World is the world's favorite photography magazine. Every issue is packed with the latest news, reviews, tutorials, expert buying advice, tips and inspiring images. Plus, every issue comes with a selection of bonus gifts of interest to photographers of all abilities.