With longer, warmer days finally here, the August 2019 issue of Digital Camera focuses on helping you take your best-ever summer shots.
Our lead feature offers 13 pages of hints, tips and ideas covering landscapes, nature and weather, plus some cool creative approaches including infra-red.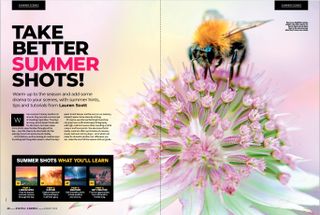 Other highlights in Digital Camera's August issue
Weddings are a fixture of the summer months, so join us as we shadow photographer Tara Statton on an assignment in our One to One pro masterclass.
And alongside projects on photographing architecture, music festivals and wild poppies, find out how technique editor Lauren gets on while shooting her first nuptials, in Photo Active.
Flowers are also a major component of the work of Dutch visual artist Ruud van Empel, who uses digital images to create dreamlike floral scenes. He reveals the why and the how of his life's work in this month's interview.
Elsewhere in the issue, brush up on perspective in Camera College and learn some pro insights as Andrew James replies to reader queries in Photo Answers.
Digital darkroom practitioners can acquire some new skills in our Practical Photoshop section, including how to master Photoshop's Tone Curve, and a tutorial on creating a film-style light-leak effect in Lightroom. Plus, we offer four ways to improve the look of any sunrise or sunset shot.
Camera reviews in our August issue see the Nikon Z 7 and Panasonic Lumix S1R vie for top spot in a full-frame/ mirrorless head-to-head, plus we review the Olympus Tough TG-6 outdoor camera.
We identify the stars among eight optics optimised for shooting the night sky, in our group test, and we ask if the Canon RF 85mm f/1.2L USM is the ultimate portrait lens.
The August 2019 issue of Digital Camera comes with 12 fabulous free gifts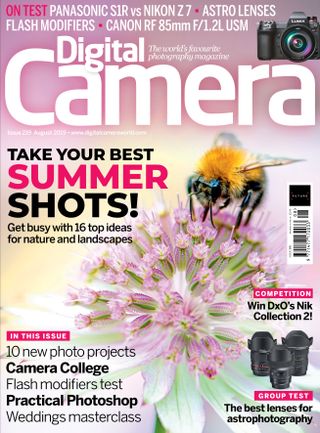 9 all-new photo tips cards covering nature, landscapes, astro… and more!
Video disc featuring 76 minutes of Photoshop and Lightroom video training
Star Trail Creation Kit for Photoshop
148-page Camera Shopper ebook packed full of buying advice
Subscribe now
Every issue of Digital Camera magazine is packed with tips, techniques, pro advice, reviews, news and inspiration. To make sure of your copy every month, subscribe at our online shop from just £12.50!
You can buy limited back issues of Digital Camera magazine in print at our MyFavouriteMagazines secure store.
Alternatively, there are a number of different digital options available, including:
• Apple app (for iPad or iPhone)
• Zinio app (multi-platform app for desktop or smartphone)
• Google Play (for Android devices)
• Readly (digital magazine subscription service)