The Fujinon XF 10-24mm F4 R OIS WR is an update to one of Fujifilm's older X-mount zooms. The optical layout is just the same, but the new lens boasts slimmer zoom and focus rings, better stabilisation and a new, marked aperture dial.
The Fujinon XF 10-24mm F4 R OIS WR is not the widest wide-angle zoom in the Fujifilm X-mount range – that's the Fujinon XF 8-16mmF2.8 R LM WR. But while the 8-16mm is Fujifilm's flagship 'red badge' ultra-wide zoom, it's big, heavy and expensive and doesn't have optical image stabilisation.
For this reason, the earlier Fujinon XF 10-24mm f4 R OIS has remained a popular lens. It's not quite as wide, but it still offers an equivalent 15-36mm focal range, and the f/4 constant maximum aperture is only one f-stop slower. More to the point, as well as being cheaper and lighter, the Fujifilm XF 10-24mm f4 R OIS has optical stabilisation built into the lens.
Clearly Fujifilm thinks it's a great lens too, because it has released a new version, the Fujinon XF 10-24mm F4 R OIS WR which brings it right up to date.
Fujinon XF 10-24mm F4 R OIS WR new features
The optical formulation of the new Fujinon XF 10-24mm F4 R OIS WR is exactly the same as the old lens. This has always been a great performer, so it's good to see the new lens keeping the same optical construction.
The new version does have some important physical improvements, though. First among these is weather sealing. The old lens was not weather-sealed, but this one should be much better able to deal with bad weather on outdoor shoots.
Secondly, the 'old' lens had an unmarked aperture ring, but the new version offers labelled aperture click-stops that suits the external exposure controls of Fujifilm's more advanced X-mount cameras.
A third significant change is an improvement to the image stabilization system, improving the shake compensation by 1 stop to 3.5 stops. This will be most useful on un-stabilized X-mount bodies, but will also work in conjunction with the in-body stabilization of the Fujifilm X-T4, for example, to provide combined shake compensation of 6.5 stops.
Fujifilm has also slimmed down the focus and zoom rings on the Fujinon XF 10-24mm F4 R OIS WR to give it a slightly slimmer profile, and this has also reduced the weight by a modest but useful 25g.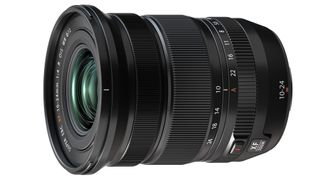 Fujinon XF 10-24mm F4 R OIS WR specifications
Lens mount: Fujifilm X
Full frame: No
Image stabilization: Yes
Autofocus: Yes
Lens configuration: 14 elements in 10 groups (including four aspherical elements and four extra-low dispersion elements)
Focal length: 10-24mm (15-36mm equivalent)
Angle of view: 110°-61.2°
Maximum aperture: f/4
Minimum aperture: f/22
Aperture blades: 7 (rounded diaphragm opening)
Minimum focus distance: 0.5m (Macro 0.24m)
Maximum magnification: 0.16x
Dimensions: 78 × 87mm
Weight: 385g
Filter size: 72mm
Fujinon XF 10-24mm F4 R OIS WR price and availability
The Fujinon XF 10-24mm F4 R OIS WR will go on sale in late November 2020 and will cost around $999 / £899.
Read more:
• Best Fujifilm cameras
• Best mirrorless cameras
• Best vlogging cameras
• Best Fujifilm lenses