Fujifilm has thrown the kind of shade worthy of RuPaul's Drag Race, by "welcoming" Xiaomi to the 100-megapixel club… by oh-so subtly taking a dig at the sensor size of Xiaomi's new product.
The Chinese smartphone maker made headlines this week by releasing the Xioami Mi Note 10, the world's first 100MP phone, with image quality that threatens the best camera phones on the market.
However, not all 100-megapixel sensors are made equal. While Xiaomi's phone does indeed possess 100MP resolution (108MP, actually), those pixels and the overall sensor size simply cannot compare to the Fujifilm GFX 100 – whose massive medium format sensor is magnitudes larger in both physical size and performance.
So when Fujifilm posted on Chinese social media site Weibo, giving Xiaomi a warm welcome to the 100MP club, it seemed on the surface to be a gregarious gesture from the camera giant.
"#小米手机100 million pixels # Welcome new members!" posted Fujifilm China (hat tip to Fuji Rumors), along with an image of the GFX 100 surrounded by lenses.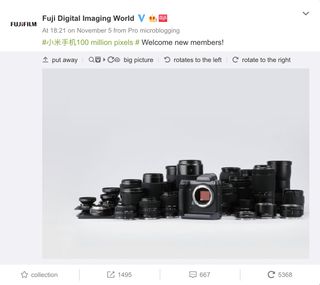 However, closer inspection of the image reveals that the GFX 100 sensor bears a smaller box – which indicates the actual size of Xiaomi's 100MP sensor compared to its own.
The actual message, therefore, seems to be 'welcome to the 100MP club, but don't forget what a real 100MP sensor looks like'.
The comments section, ablaze with snipes and satire from followers, saw a comment from Fujifilm to "encourage Xiaomi's innovation for mobile phones". However, while we'd love to think this was the manufacturer being magnanimous, it did seem to be a similarly patronizing dig along the lines of 'bless them for trying!'
What's fascinating about this whole situation (aside from the level of thinly veiled corporate snide) is the fact that Fujifilm actually has a hand in the Isocell technology that's inside the Xiaomi Mi Note 10. Fujifilm and Samsung announced a partnership in July to work together on Isocell sensors, so it's a curious little dig.
Of course, given that Phase One makes 100MP (and, indeed, 150MP) sensors that are true medium format in size, Fujifilm should probably know better than to belittle the size of other manufacturer's sensors…
Read more:
The 10 highest-resolution cameras you can buy today: ultimate pro cameras
Hands on: Xiaomi Mi Note 10 review
Fujifilm GFX 100 review