After teasing us for days, Fujifilm has officially launched the Instax Mini LiPlay – a new generation of instant camera that offers much more an an instant print.
Billed as the world's smallest hybrid camera, the Instax Mini LiPlay offers a digital camera as well as an instant camera - as originally launched with the Fujifilm Instax SQ10.
The new Mini LiPlay uses standard Instax Mini film which produces prints with an image area that measures 46 × 62mm (1.8 × 2.4 inch).
The digital camera side of things offers a 4.9 megapixel CMOS 1/5in sensor, with a built-in memory for 45 images, but with a microSD card slot that will allow you to store thousands of images.
The combination means that you only need to print out the images that you want – which greatly saves on wasted film! You can review images on the built-in 2.7in 230k dot LCD screen, and decide those that are worthy of a print - and of course you can make multiple prints of the best ones.
The lens is a fixed wide-angle with an effective focal length of around 28mm. The autofocus offers a minimum focus distance of 10cm. There is a small selfie mirror on the front that helps frame your self portraits.
The shutter speed range is from 1/4 to 1/8000sec, with the digital ISO range being from ISO100-1600. There is a buit-in flash.
The camera is powered by a rechargeable battery which will last for around 100 shots. The overall dimensions are 82.5 × 122.9 × 36.7 mm, with a weight of 255g.
Audio and more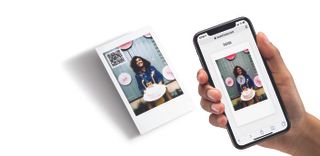 A neat new additional feature is that the LiPlay records audio... which can then be played back from hard copy prints using a QR code and app.
With in-built Bluetooth connectivity, the Mini LiPlay also functions as a portable printer – allowing you to create hard prints direct from your camera phone's image library, irrespective of what device the image was captured on.
The camera also features three shortcut buttons positioned on its left edge, which enable you to select different frames for your images. The app's final trick is that it can assign your own templates to these shortcuts instead.
Color options and pricing
The instax mini LiPlay will hit the shelves on the 14 June 2019 at a recommended price of £149.99 / $159.95. It comes in three different color options: Stone White, Elegant Black and Blush Gold.
Read more:
The best instant cameras in 2019