Fujifilm has announced the temporary suspension of orders for body and lens kits for the Fujifilm X-T5 and Fujifilm X-S20 in its native Japan. The camera manufacturer has issued a statement of notice, accompanied by an apology to its customers.
Fujifilm has seen delays across many of its digital cameras, usually in the form of unexpectedly high pre-orders. This is not the case here, however, as the two cameras in question have been out for some time.
The drastic move to suspend all orders of the X-T5 and the X-S20 is due to, "far exceeding our initial plans due to continued strong sales and a sharp increase in inbound demand".
This suspension will not only mean delays in new customers purchasing the cameras in the region, but also delays for customers who have recently already ordered. There is no further information regarding how long Fujifilm plans on suspending sales, and the advice from the company is to keep an eye on its news channels.
This year has already seen delays to the Fujifilm X100V and the GFX 100 II. Fujifilm's popularity has increased dramatically over the last few years, with hybrid shooting being a key focus.
The full statement follows.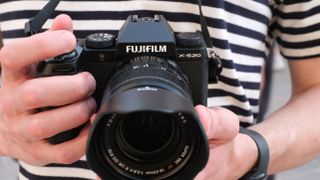 "Dear customers
Thank you very much for your continued patronage of Fujifilm products.
We are currently receiving orders for some mirrorless digital cameras that are far exceeding our initial plans due to continued strong sales and a sharp increase in inbound demand, and we are unable to keep up with product supply. We will temporarily suspend accepting orders starting today. Additionally, it will take some time for products that have already been ordered to be delivered. We deeply apologize for the inconvenience caused to our customers.
We will inform you again on our website regarding when orders will be resumed.
We will do our best to deliver the product as soon as possible, so we appreciate your understanding".
A suspension at this time of year, just before the holidays, must not be ideal for Fujifilm and I imagine it would have had no other choice but to do so. Suspending sales of these cameras and lens kits is, however, a positive action, as not doing so would result in more orders and more customers waiting for their camera after paying.
Although this news currently only affects the Japanese region, if you are looking for one of these cameras it is still worth pulling the trigger if you see one in stock!
Take a look at the best Fujifilm cameras and the best Fujifilm lenses. And, if you're a medium format shooter, check out the best Fujifilm GF lenses.