This video was shot using the Panasonic Lumix S5 (with a bit of drone footage thrown in) by pro videographer Adam Duckworth, who gives his thoughts on the camera below...
There's a specific reason Panasonic chose the name S5 for its new Lumix mirrorless camera. And that's to get loyal owners of the Micro Four Thirds GH5 and GH5S to see it as a full-frame version at a similar size and price. And that's precisely what the new S5 is.
Aimed at the new breed of 'content makers' who value stills as well as very high video spec, the camera might officially be part of the Lumix S series of Lumix S1, Lumix S1H and Lumix S1R cameras but eschews the much larger, heavier and boxier form factor. It is significantly smaller and lighter, roughly the same size as the Lumix GH5.
• Read our full Panasonic Lumix S5 review
Of course, it needed a different lens mount for larger glass so it joins the L-mount alliance alongside its fellow S-class offerings. It actually has the same 24.2MP, dual native ISO sensor of the S1H, a camera which costs around double the price of the Lumix S5. The Lumix S5 also inherits lots of the flagship camera's video spec such as V-Log color, waveform monitoring, LUTs, anamorphic shooting, in-body image stabilisation, fast 180fps HD recording and 10-bit internal video capture.
It's also available with a diminutive new 20-60mm f/3.5-5.6 lens for $2,298/£2,000, and at launch comes with your choice of a free Sigma 45mm prime lens or XLR mic adapter in the UK, or with a free Sigma 45mm f/2.8 lens in the US.
All of this makes the Lumix S5 an intriguing full frame alternative to Panasonic's MFT Lumix G models. Read our Panasonic Lumix GH5 II vs S5 comparison to see some of the differences.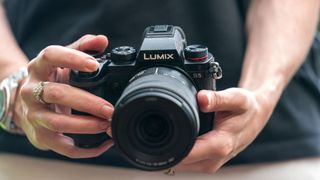 It's not quite a Lumix S1H
Unlike the 6K S1H, The Lumix S5 is limited to 4K recording and has no all-Intra codec, relying on the more compressed Long GOP format which it records to twin SD cards. And its recording time is capped at 30 minutes in some formats, as it doesn't have the cooling fan of the S1H built in. But for the majority of formats, there is no recording time limit.
The Lumix S5 records 4K in 60/50p 4:2:0 10-bit internally and 4K/ 30p at 4:2:2 10-bit. Attach it to an external recorder and it is capable of 4K 60/50p in 4:2:2 10-bit. Any 10-bit codec is a real bonus when shooting log, with a real improvement in colors.
And a forthcoming firmware update will see the S5 upgraded to C4K internal recording and raw 5.9K at 25/ 30p, 4K at 60/50p and anamorphic 3.5K outputted to an Atomos Ninja V recorder, like the S1H. So for the ultimate quality, it will match the S1H but at a fraction of the price.
The Lumix S5 has so many of the features of a top-range mirrorless camera, such as HLG video colour for HDR recording and photos, 4K/60p interval shooting, and 6K burst photo mode at 30fps to produce an 18MP still image, as well as High Resolution mode for 96MP still images. Like the Lumix S1H, it has a dual native ISO sensor, which has a base of 640 and 4000 ISO when shooting Log.
But of course there are some corners cut to make the camera to a lower price and size, such as a mini HDMI port instead of full size, a smaller screen and a lower-res viewfinder.
The stills and video quality is pretty much identical to the S1H when set to the same settings. Of course the S1H has more detailed options, like 6K and All-Intra codecs. As the S1H is the first mirrorless camera approved by Netflix, you know the quality is there and the control of noise at high ISO is very impressive. But in the fastest super slow-motion settings, up to 180fps in HD, the image is a little softer and there is no AF.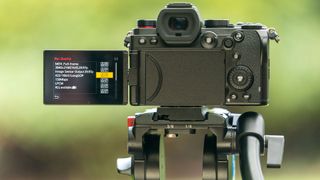 What about the autofocus?
In terms of focus, Panasonic is one of the few manufacturers that still hasn't jumped to on-sensor phase detection AF, which has always been one of its weak points, even with Panasonic's DFD (depth from defocus) tech and 480fps camera-lens communication.
The new Lumix S5 does have an improved version of Panasonic's contrast detect technology, however, and it works better than any other Panasonic camera. For stills, it's very useable even shooting fast-moving objects and is precise once it locks on. For video, it can still sometimes hunt a bit. The camera has all the latest face and eye detection tech which tracks a subject well, but the AF seems to struggle to keep up at times.
That's pretty much the only weakness in what so far looks like a very good all-round camera that's great for stills and excellent for video.
Read more:
• Best cameras for video
• Best Panasonic cameras
• Best Micro Four Thirds lenses
• Best vlogging cameras
• Best cinema cameras
• Best mirrorless cameras