With Canon and Epson really being the only major players still left in the home desktop printer game, Canon is doubling down on its strong market position and releasing a relentless stream of new models. The latest printer batch is a quartet of new PIXMA TS-series models: the TS8350, TS6350, TS5350 and TS3350.
PIXMA aficionados (they're a lively bunch) may identify these as updates of 2018's TS8250 and TS6250, and 2017's TS5150 and TS3150. All are cost-conscious, lifestyle-themed models, aimed at students and imaging hobbyists.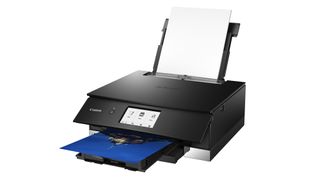 PIXMA TS8350
The TS8350 is the flagship of the four new releases, and represents a minor refresh of last year's TS8250. The new features are automatic paper width sensing, and the addition of 5GHz Wi-Fi to the usual 2.4GHz band. Otherwise the specs, features and case design remain the same as the TS8250:
6 separate ink tanks, including photo blue, optional XL and XXL inks
Print borderless photos up to A4
Print a borderless 10 x 15cm photo in 17 seconds
Rear paper feeder for different media types, paper cassette and multi-purpose feeder for printing on fingernail stickers and discs
10.8 cm color touch screen for intuitive operation
Canon PRINT App, AirPrint (iOS) and Mopria (Android), as well as support for 5 GHz WLAN
Automatically raised control panel, automatic paper exit, automatic two-sided printing and automatic paper width detection
Print photos directly from an SD memory card or camera
Available in black, white and red
The PIXMA TS8350 has an RRP of €195 and will be available from September. UK pricing has yet to be officially revealed, but £150 seems likely.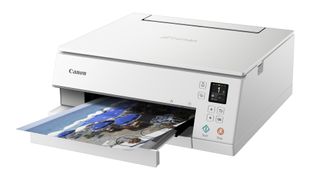 PIXMA TS6350
One rung down the ladder of newly released PIXMAs is the TS6350. It's slightly slower than the TS8350, with a borderless 10 x 15cm photo taking 4 seconds longer at 21 seconds. You also get five separate ink cartridges compared to the TS8350's six, and the main control screen is smaller - a 3.7cm display vs. a 10.8cm touch-screen. Key features:
5 separate ink tanks, optional XL and XXL inks
Print borderless photos up to A4
Print a borderless 10 x 15 cm photo in just 21 seconds
Large media bandwidth, two paper feeders
LED status bar, automatically opening output tray
3.7 cm OLED display, connect button, QR button
Canon PRINT App, AirPrint (iOS) and Mopria (Android)
Automatic two-sided printing and paper width detection
Available in black and white
Expect to pay €139 for the PIXMA TS6350, with availability from September.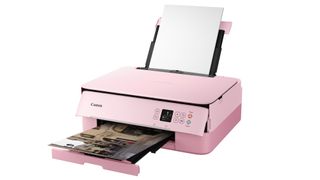 PIXMA TS5350
The second-cheapest, but most eye-catching offering in the new PIXMA TS-series lineup is the TS5350, which will go on sale with an RRP of €105 in September.
Four body colour options will be available, with the oh-so-pedestrian black and white models joined by a rather fetching bubblegum pink version. The dentist's choice is sure to be the mint green edition, but strangely Canon is making us wait until early next year for it. You could call that a disappointmint. #SorryNotSorry
FINE print head with ChromaLife100 ink and optional XL inks
Canon PRINT App, AirPrint (iOS) and Mopria (Android)
Two paper feeders, automatic two-sided printing
LED status bar and paper width detection
3.7 cm OLED display, QR button, Connect button
Print a 10 x 15 cm borderless photo in just 43 seconds
Available in black, white, pink and green
PIXMA TS3350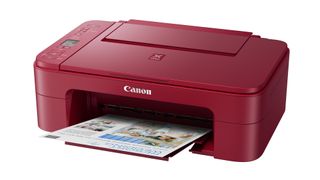 The cheapest of the newly-launched models is the PIXMA TS3350, which is set to retail for just €75 in September. UK pricing is still unverified, but given that its predecessor, the TS3150, can now be had for less than £50, the TS3350 is unlikely to cost much more.
As you'd expect at this price point, features are limited (you know the marketing department is struggling when 'rear paper feed' is listed as a feature), but you do get borderless photo printing up to 13 x 18cm. Oh, and an auto power off feature. Sold.
FINE printheads with optional XL cartridges
1.5-line LCD
Canon PRINT App, AirPrint (iOS) and Mopria (Android)
PIXMA Cloud Link via the Canon PRINT App
Rear paper feed
Auto On / Off function
Sharp document text, printing of borderless photos up to the size of 13 x 18cm
Available in black, white and red
Read more:
• The best portable photo printers
• The best photo printers
• The best online photo printing services
• Best 3D printers