Joyusing (or is that Joy Using?) announces a new 4K UHD document camera – or visualizer – with a 12x optical zoom and 10x digital for an insane 120x. With a capture area around A3 and a lot of ports, this is intended for serious use.
The 2.8kg (6.1 pound) device is definitely making a play for our best document cameras list with an unusually high-resolution 13-megapixel camera, making possible 4K video and 4160 x 3120 pixel scans.
Document cameras are important in classrooms, where they can provide a live stream when connected to a projector or screen for display - or for online streaming to remote studings. They can also be used to take stills – scans – of documents. Since the camera is on an arm, this is an effective way of showing 3D objects or scanning thick books which flatbed scanners don't love.
Connectivity in general seems on the generous side with HDMI, VGA, and USB connectivity – two ways in each case. There are also line-in and line-out audio sockets and the option of recording to a MicroSD card.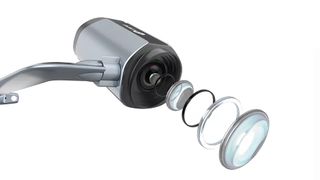 If you don't need the 4K resolution you need to consider a new projector (look at our favorites in the best projectors list). Alternatively, Joyusing offers the V1XS model which has a still powerful 8-megapixel imaging system with a 3256 x 2440 document scan or 1080P video. Interestingly a close look at the spec sheet reveals the new 4K option only offers 15fps at 4K, but both can handle 1080P at 30fps.
The V1XS has another potentially handy feature its 4K sibling lacks – a live video preview screen. Both have backlit rotary control dials on the base of the unit and a row of touch buttons near the edge. Additional control is available through Mac OS, Windows, Android, and iOS apps.
If you're thinking of investing in a document scanner, our best document camera guide will give you a good idea of what you need. We also have a specific list of best book scanners.