The best document cameras let you zoom in to documents, books or small objects and display them on larger screens to students, colleagues or conference delegates. In that sense, they're similar to the overhead projectors of old, but they're much more flexible thanks to the addition of new technologies. Most, for example, can also capture images or video.
So if you're speaking or teaching in a classroom, lecture theatre, meeting room or conference space, the best document cameras offer a great way to bring your subject to life (which is why they're often referred to as 'visualizers'.) You can also connect them to conferencing tools like Zoom and Google Meet, or use them for live streaming via tools like OBS (Open Broadcaster Software).
The best document cameras also double as a convenient document scanner, and are a lot more portable than a traditional flatbed scanner. Furthermore, some come with software that can sequence pages automatically, and the resolution is often good enough for emailing contracts. Archivists, especially, will appreciate the ability to capture uneven documents; very handy for running OCR (Optical Character Recognition) on bound books.
Below, we list the best document cameras for a range of uses, and at a variety of prices. If you're not sure what you're looking for, though, read our section on How to choose a document camera first.
Best document camera in 2023
Why you can trust Digital Camera World Our expert reviewers spend hours testing and comparing products and services so you can choose the best for you. Find out how we test.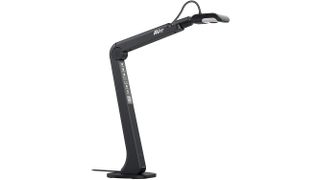 With an 8MP CMOS camera, the M5 offers plenty of resolution for the HD video this device provides, at a slick 60fps. But its real power comes in AVerVision's software, which makes it comfortably able to take on an area larger than A3 (tabloid) or address rotation (not just 90˚ by 'Curve Flattening') and sharpening on the fly. The app, AVerTouch, also offers cloud storage.
It is straightforward enough to connect via USB. That's the only option available, mind, but given that the camera and 10-LED lamp array can draw their power via the USB lead, you really are looking at a very convenient device.
Also note that this lacks the HDMI option that the pricier AVerVision M11-8MV (number 8 on our list) offers. But if you can use your computer to route your display instead, this does represent excellent overall value, making it the best document camera for most people.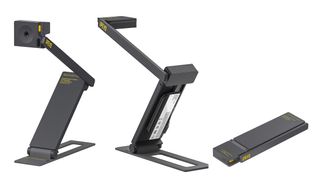 Need a document camera you can easily carry from place to place? This 2020 model from Ipevo is designed for simplicity and portability.
Other key attractions here are great looks and functional design. The IPEVO Do-Cam has a neat cable store within the hinged mechanism that ensures it folds away neatly. It also comes with a minimalist protective cover, secured with a stylish band. This is a USB affair that offers plug-and-play operation with a laptop. Note, though, that this uses a standard USB-A socket, so if you use a modern MacBook with only USB-C sockets you will need an adaptor.
The supplied software is very clean, so it takes a little while to explore, but offers an extensive range of features. The 8MP camera itself has a button that allows you to flip the picture with one press – allowing you to quickly switch from the Do-Cam functioning as a document camera, to being a regular webcam. Overall, this is a really neat device, and if you want something that makes even more of a statement on your desk, opt for the yellow Creator's Edition. For more details, see our Ipevo Do-Cam review.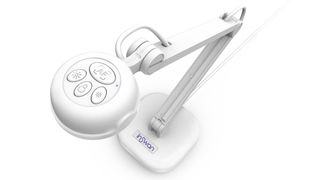 Short on cash? Here's a cheap but still knock-out document camera, offering as 8MP video at 30fps. In fact, this device is fully-featured and better realized than many in much higher price brackets. Share it with your online teaching platform via Inswan's Documate app, for instance, and you can benefit from live annotation.
So long as the camera head is at least 10cm (just under 4 inches) away from the surface, the autofocus is quick and the Sony CMOS seems to get adequate light even from just the small LED in the head. With its Anglepoise-like design, it doesn't fold completely elegantly, but it's still very portable and can also be used as a webcam with in-built tripod and light. Not at all bad for versatility, especially if you're teaching from a new or temporary location.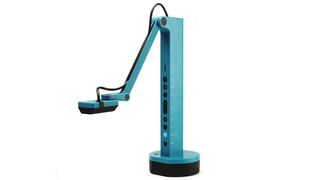 This document camera is nothing if not flexible. It can be used on its own or with a Mac, Windows computer, Chromebook, iOS or Android device as well as via direct HDMI link. It can even be paired with an Apple TV. Wi-Fi helps reduce the clutter when pairing with these devices, and USB is on offer too.
The supply of buttons on the column is appreciated, making it a simple task to zoom, or operate (or lock) the focus using the physical buttons. The exposure compensation buttons are useful too. And there's even an adequate microphone built in. Note, finally, that if you're not tempted by Wi-Fi, the IPEVO VZ-R is available in a cheaper edition with that feature stripped out.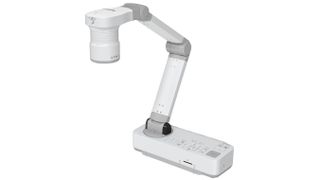 Epson's ELPDC21 has a 1/2.7-inch CMOS sensor which can capture a full A3/tabloid area. This device has been built with clear thought to usability, right down to the stand-out autofocus button. The remote offers manual control. Capture and Record buttons are also on hand, and a 12x optical zoom (further boosted, if possibly needed, by 10x digital) provides very close detail when needed.
As a solidly-built product, this isn't the most portable on this list, but at over 5lbs (over 2.5kg), and with a Kensington lock, it should survive a variety of classrooms. It's Mac and Windows compatible, will fit into classrooms with all manner of displays, and can present split-screen content. Traveling presenters might notice the weight, but that's off-set in part by an excellent travel case, included with the unit.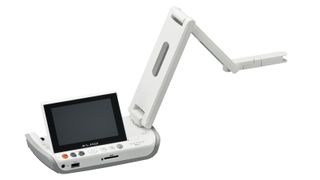 ELMO has created a system they call 'Stem-cam,' which layers their own software styling atop Android (just as phone designers do). This has allowed them to add touch-screen controlled annotations, zoom and other features, as well as including software and stored videos and images (internal memory or via SD card).
Your device comes pre-loaded with QR-Code readers, a Chrome browser, Miracast, and a countdown timer to give an exam a suitably ominous note. Every unit comes with the STEM game Scottie Go (a modern-day 'Logo' for BBC Micro fans), in which kids build a simple computer program by arranging cardboard pieces on a board. The ELMO MA-1 camera can watch the student's arrangement then perform the actions they represent on its local screen, and relaying it to the class's digital whiteboard too.
It's possible to add your own apps: Google Translate works via the camera, should you install it, which feels very science fiction. Connectivity is usefully modern; there is still VGA-out if needed, but there is HDMI-in and HDMI-out, too, so you can use it as a switching box, and the device can also act as a webcam.
Alternatively, if you don't need the screen, and want a less expensive Stem-cam option, look for the ELMO MO-2.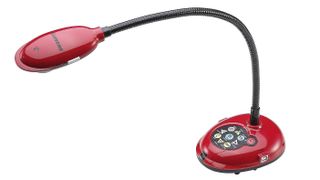 A flexible gooseneck design might make a 13-megapixel document camera a little trickier to get horizontal, but is very useful with non-flat subjects. The Ladybug-inspired appearance stands out in a classroom of drab equipment too, and it's a refreshed version of a popular design (the DC125) bringing with it the choice of 4K HDMI or USB output; There is also pass-through for the HDMI so you can share your screen quickly and easily. The older Lumens DC170, which offered XGA pass-through and a light on a separate stalk can still be found, but needed a refresh after half-a-decade.
The USB connector can also play video and stored images directly, or to record your lesson (to a computer or up to 256GB drive). It can also be used to connect to a mouse so you can use teaching tools without needing a separate computer; highlighting, image rotation, etc. are all there. The camera also sports an 'Auto Tune' button, which isn't for karaoke fans but automatically adjusts focus and contrast.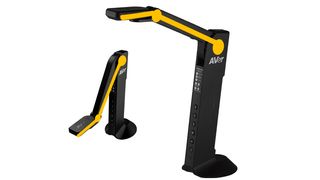 Looking for high frame rates? The 60fps this document camera offers will ensure you get smooth-looking video when, for example, flicking through a book on camera, teaching card tricks, and the like.
More generally with an image sensor of 1/3.06" CMOS and 8MP, this is a high quality and pleasingly compact (when folded) camera. You also decent digital zoom, plus a USB mouse can be plugged directly into the device's socket to add annotations on the presentation screen, no computer needed. Shade and thickness of drawing line can be adjusted, too.
The base is weighted, so the camera is unlikely to topple, and the camera can be rotated 180 degrees so it's easy to get your subject in shot without obstruction. The device can also record video up to 120 images internally, though you'll want to add a MicroSD card to beat the 2MP resolution.
There is an embedded LED lamp and built-in microphone, too. However, if you want portable power you'll need a laptop power bank.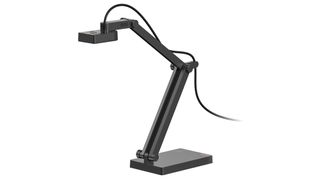 With an 8MP Sony sensor, this is a good quality capture device which works well as both a document camera and a webcam. A built-in microphone, with AI driven noise cancellation, means it can be angled as you choose and still successfully filter out background noise, so it can be used in a normal office environment. If you're used to having a camera look up your nose from a compact laptop, there's much to be said for using this high resolution camera, with the ability to stand tall on the table.
Users of modern MacBooks will need a USB-A to C adaptor. But on the plus side the device is plug-and-play: Mac, Windows and Chromebooks should recognise the camera without issue, though Ipevo also offer software for some extra functionality. We also appreciated physical exposure buttons on the camera unit and a switch to disable the mic; reassuring if privacy is a concern.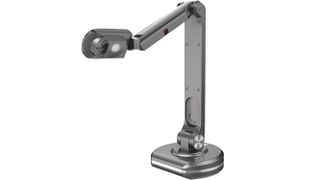 The V500S is built to meet the needs both of users who will be pointing the camera downward and those using it as an alternative webcam. To that end, the pillar features five wisely-placed folding joints, more than one LED light, and a microphone to make webcam use as painless as possible.
The 30fps mode is also a big plus here, as is the very capable autofocus; it can all potentially folding out to look down on – and illuminate – an A3 area of table or go in close on something for a lesson and hold its balance. Despite this, it comes in at under a kilo, and can fold into little more than a half-length stick on a table weight (with a camera protected in a ready depression).
We also appreciate that the software is made available for Windows, Mac and Chromebooks and even allows digital zoom up to a wholly unnecessary 100x; almost asking for a place on the best microscopes list!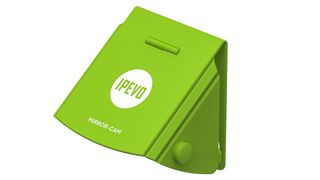 Don't even have the means to buy a cheap document camera? Well, IPEVO's Mirror-Cam offers a clever solution. It's basically a clip on mirror that re-directs a normal webcam downward, so it can do a similar job.
IPEVO also provide a keyboard cover, whiteboard and Visualizer software to make everything work properly. That said, you shouldn't expect too much of high-res dependent features like OCR because laptops don't all have great webcams. You also need to position your laptop screen to a quite specific angle. And, of course, can't use the webcam at the same time!
How to choose a document camera
Following the advent of home working and the digitization of the classroom and meeting space, a bewildering array of document cameras have emerged. To choose the best one for you, there are a number of things you need to consider.
First look at where you will be displaying your image. If you're video conferencing, it's usually more convenient to use a USB connection, whereas some conference and classroom setups are better equipped for HDMI. That way, you can plug the document camera straight into a video projector with no logging into computers or admin passwords.
Also consider what resolution you'll need. To capture a larger document, the lens typically needs to be higher up, and to get the same detail you'll need more megapixels. On the flip side, smaller cameras are more portable, so there's a compromise to be made there.
Here are some other factors to take into account:
Connectors: If the device sports a USB connector, it'll likely be very convenient to set up because the computer will detect it as a webcam. This, in turn, means live meetings will be a possibility.
Lighting: If you're working in a well-lit room, this might not be worth seeking, but if you're aiming to capture consistent, evenly lit views of open pages then built in lighting will be essential.
Image sensor: Bearing in mind a standard 1080P TV image can be described as two megapixels, that is enough for viewers to see type (and in a lecture theatre might well be the limit of the projection quality available). Eight megapixels (4K) and above are better choices if you're looking to capture and keep graphics / archive pages.
Autofocus: Cameras which can focus (as opposed to fixed focus) tend to get the sharpest images, so a focusing lens is worth looking for.
Frame rate: If you're looking to use live-streaming, we'd recommend a camera capable of 30fps – a common standard. Many offer a lower 15fps, which is still not a problem, but might look a little jerky to audiences.
Read more
The best webcam
Best conference webcams
The best camera for streaming
Best projection screens
Best film scanners
Best book scanner
Best all-in-one printers