Highly compact and extensively stabilized – yes, it's a DJI Ronin gimbal. This time it's the DJI Ronin-SC (the C standing for "Compact") and it's designed specifically for mirrorless cameras.
It's the smaller sibling to the DSLR-focused Ronin S, and it's almost half the weight at just 971g. The Ronin-SC can also be taken apart easily for travel, but it's still built to be durable and lasting, with a construction of magnesium, steel, aluminum and composite plastic.
The 3-axis stabilization system uses high-grade motors that are capable of supporting up to 1.87kg of camera kit, while the dedicated battery can provide up to 11 hours of operation.
DJI says it has taken on feedback from the Ronin-S and added a few extra features. The Ronin-SC features locks on its pan, tilt and roll axes, making it easier to balance the camera, and there's also a new position lock system. As with the Ronin-S, movement can be controlled via the joystick, and modes and settings can be accessed via the Mode button. Modes include the popular Sport mode, which is characterised by increased response speed.
• Read DJI Ronin-SC review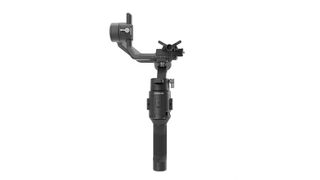 Using the dedicated Ronin smartphone app, users can assign up to three custom profiles and adjust settings like motor output. New Force Mobile mode synchronises the movement of the gimbal with the movement of your smartphone for tactile control experience – we're interested to see how that one works. Operating distance goes to a maximum of 24.9 metres via the Bluetooth connection.
Another new mobile-powered feature is ActiveTrack, which allows the user to select an object for the gimbal to follow, which it can do intelligently thanks to deep-learning algorithms – at least, so DJI claims. That's another one we'd like to see in action.
Elsewhere you've got plenty more features you'd expect from a Ronin – time lapse, motion lapse, motion control, panoramas.
The DJI Ronin-SC will be available from today in two packages. The Ronin-SC standard costs £325 / €359 / $439, or there's also the Ronin-SC Pro Combo, which adds DJI's focus wheel, focus motor and the Remote Start Stop (RSS) Splitter, which costs £415 / €459 / $539.
Read more:
The best gimbals for your iPhone, GoPro and camera