American drone manufacturer Skydio is teasing that it has a 'spectacular' new drone coming this fall.
This might be marketing hype from a company that has only released one drone so far in its short history. But that one drone was something special - and features in our guide to the best camera drones.
The Skydio R1 ripped up the rulebooks in terms of tracking moving subjects and collision avoidance. This is a drone that could follow cycling you down the mountain path, ducking its way through the branches of trees, to ensure that you stayed perfectly in shot. And it could follow you around as you walked through a building in super-smooth - using two cameras to aid its visual navigation system.
Now Skydio is telling its customers and visitors to its website "If you are thinking of buying a drone, wait. We've got something new coming this fall".
In an email to its fans it has now said "we're about to launch something even more spectacular. It's the next chapter in fully autonomous flight…. It's the culmination of everything we've learned from our first drone and all of the feedback we've received from our first customers. We've listened closely and worked tirelessly to build something that truly redefines what a drone can do, opening up new possibilities in aerial video. Here at Skydio we're all about awesome autonomous drones and are super excited to have you along on this incredible journey to push the boundaries of aerial autonomy."
The teaser image of the drone (above) doesn't give that much away – but it does look like it will look significantly different from the R1 and more futuristic.
We will let you know more, when we find out more!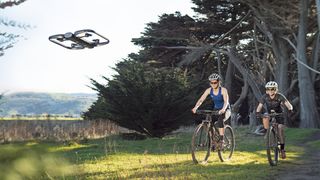 Read more:
The 10 best camera drones

Best accessories for your drone