UPDATE: The Photography Show will now take place on 20-21 September 2020 as an online, global event, with a virtual venue that recreates the live experience of going to a show, visiting exhibitor stands, attending talks and conferences, and seeing the latest products in action.
The physical show will return from 18-21 September 2021 at its traditional home at the NEC in Birmingham, United Kingdom. The virtual show will be free to attend, and all entry tickets and passes booked or confirmed for the March 2020 event will be valid for the 2021 dates. For more information visit www.photographyshow.com.
…
The Photography Show and The Video Show is just around the corner, and if you're planning on coming to the four day photography extravaganza, you're probably wondering how you can keep track of all the exciting talks, demos and events that will be happening. Luckily, there's a dedicated app that allows you to keep track of everything that's happening.
The Photography Show and The Video Show app has the full schedule of everything going on at the show. This includes the official stages, such as the Super Stage and the Social Stage, and talks from exhibitors as well, such as Canon, Nikon and Bowen.
• Get tickets for The Photography Show
The app also gives you the option of pre-planning your day by adding the events that you're interested in to the 'My Schedule' section. This means that you can plan exactly what you're doing each day right now – and ensure you don't miss anything that you're looking forward to. Usefully, you can even set the app to remind you of the event 15 minutes before it begins.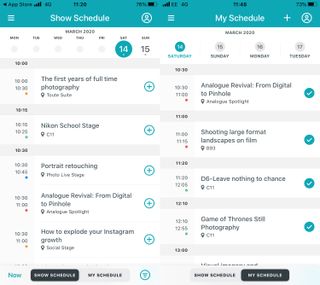 You can also scroll through a list of exhibitors to see who will be there, where their stand will be and read a short description of what they offer. There's also a similar list of speakers, which will tell you where and when they'll be talking and give a synopsis of their photographic career.
There's even an interactive section on the app where you can chat with exhibitors and other attendees. This is the perfect opportunity to connect with people before you even arrive at the show.
If you're interested in downloading The Photography Show and The Video Show app, you can download it from the Apple app store here, or simply search 'The Photography Show' on the app store.
Read more
Chris Packham talks cameras, campaigns and creativity
TPS 2020: Five quick questions with pro photographer Juno Calypso
Canon EOS R5 to make public debut at The Photography Show!