London-based artist Juno Calypso works with photography, film and installation, and studied photography at the London College of Communication. During the course, Juno began taking pictures of herself disguised as a character named Joyce.
In 2015 Juno took Joyce to a romantic-themed hotel in the US. Posing as a travel writer, Juno gained access to multiple rooms and used them to stage a series of solitary self-portraits – studying solitude, desire and femininity through a dark comedy lens.
Learn more about this work on the Super Stage at The Photography Show, on Tuesday 17 March at 1.15pm, during Juno's 'Exposing Myself: From Bedroom to Billboard' talk.
Tickets for the Super Stage speakers are available now for £12 each. The talks will be held in the Toute Suite, just outside the main hall of The Photography Show.
In the meantime, find out more about Juno and her career to date as she answers five quick questions ahead of her Super Stage appearance…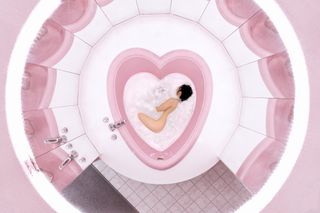 Five quick questions with Juno Calypso
1. At what point in your career do you think you arrived at the style you have now?
My final year project at university. I got dressed up and photographed myself jumping out of a giant cake. It was kitschy, timeless nostalgia.
2. How do you achieve such a clean style? Does most of the work happen in camera, or afterwards in editing?
I really enjoy editing. At the start I couldn't get my head round lighting, but I could clean up the most terrible images and make them look natural. Nowadays I try and get as much done in camera as possible. I still don't take much lighting equipment with me on location. Just a flash gun. But I prefer to save myself the headache and regret when reviewing the images back home. I do a lot of bracketing which gives me lots of lighting options to work with in post production.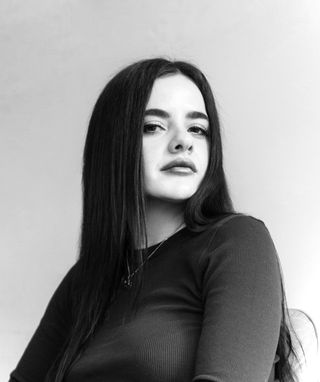 3. Do you ever use purpose-built sets or just adapt what is already there?
In my university project I built the set and the giant cake myself, but it took weeks doing it part time after school. I've designed sets for commercial projects, because there's budget and a team.
All of my personal projects have been on location, though. When it's an art project it feels better to have a story to tell about where it was.
The history of the location, the story of my time spent there… All the strange and embarrassing things I had to do to achieve the shots, and how I kept it all a secret from the property owners.
4. Do you think you will start to use much more video in your work in the future?
Yes, I would love to. I would like to stay behind the camera for that, so I need to get more experience directing other people first. I'm so used to working completely alone, and video demands collaboration.
5. Can you describe your favourite colour palettes to work with, and any early inspiration that set you on the path you are on today?
I have an obsession with the colour pink. It never gets old for me. Is that because it has been assigned to me at birth because of my gender? Probably. But I don't care. I enjoy revelling in the feminine aesthetic and all its cliches.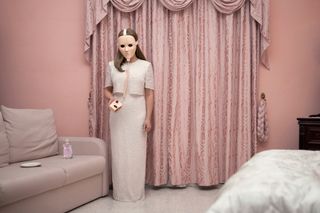 Booking details
Catch Juno Calypso on the Super Stage on Tuesday 17 March 2019, at 1.15pm. Tickets cost £12.
There are over 200 exhibitors and over 300 free talks and demonstrations at The Photography Show, and sister event The Video Show. Tickets for the main show are available now, and you can get 20% off standard adult tickets if you buy them before 11 March – just use the code DCWTPS20 when checking out.
Don't miss the other Super Stage speakers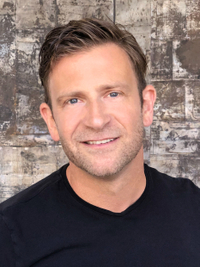 Chase Jarvis
Award-winning photographer and entrepreneur
One of the most influential photographers of the past 20 years, Chase's expansive portfolio ranges from shooting advertising campaigns for mega-brands including Apple, Nike, and Red Bull, working with athletes including Serena Williams and Tony Hawk, and collaborating with global icons including Richard Branson and Lady Gaga.
Saturday 14 March 2019, 1.15pm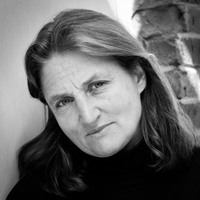 Susan Meiselas
Documentary photographer and photojournalist
Perhaps best known for covering the insurrection in Nicaragua and human rights issues in Latin America in the late 1970s and 1980s, Susan has been a member of Magnum Photos since 1980 and has produced an extensive body of work. Find out more about it during her 'A Life Through Photography' talk on the Super Stage.
Read '5 Quick Questions with Susan Meiselas'.
Saturday 14 March 2019, 3.30pm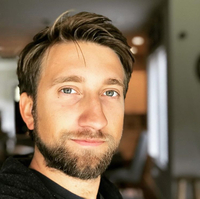 Gavin Free
Award-winning cinematographer
Sharing over 13 million subscribers on YouTube as The Slow Mo Guys with his creative partner Daniel Gruchy, Gavin achieved fame by capturing high-end slow-motion videos of fascinating processes, such as a balloon bursting. On the Super Stage, Gavin will be speaking twice: sharing his insights into his life as a successful YouTuber (1.15pm), and the art of high-speed cinematography (3.30pm).
Sunday 15 March 2019, 1.15pm & 3.30pm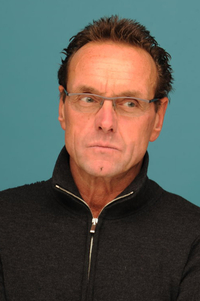 Ross Halfin
Music and landscapes photographer
Anyone into their classic rock might want to hold onto their hats. Music photographer Ross Halfin has captured bands such as Aerosmith, Kiss, Metallica and The Hollywood Vampires – and now he's going to be taking to the Super Stage to discuss his craft, 'Four Stages of Rock: A Conversation with Ross Halfin'.
Monday 16 March 2019, 1.15pm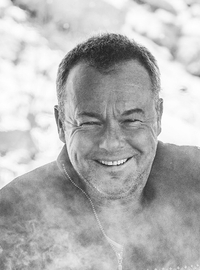 David Yarrow
Award-winning photographer and conservationist
Having started out as a press photographer covering sports events, Yarrow is now best known for his valuable work in wildlife conservation – sales of his prints have raised over £2.2 million for conservation NGOs, children's education in Africa and medical charities around the world.
Monday 16 March 2019, 3.15pm
Read more about TPS 2020
The Photography Show 2020: everything you need to know
Download your free 32-page Photography Show 2020 preview
Line-ups for Photo Live & The Studio stages at TPS 2020
10 great travel photography tips from a professional photographer