Capture One is an all-in-one image cataloguing, raw processing and editing program that competes head-on with Adobe Lightroom. It's famous for the quality of its raw processing, tethered shooting and editing tools, and it's also available for a single 'perpetual' licence fee, unlike its arch-rival Lightroom. (There is a subscription option too.)
Unfortunately, Capture One is also expensive, at £299/$299 for the regular version, so although it's always near the top of our list of the best photo editing software you can get, its price puts it firmly in professional territory.
But Phase One also makes cheaper Sony and Fujifilm versions made specifically for these two camera brands, and it's these that have had their prices chopped. So if you are a Sony or a Fujifilm user and you're looking for the best possible image quality from your camera's raw files, this seems like an unmissable opportunity.
It's especially good news for Fujifilm owners since most raw processing software tends to struggle with the Fujifilm X-Trans sensor's unique colour filter array (raw specialist DxO doesn't support X-Trans sensors at all). Lightroom doesn't do a bad job, but Capture One Pro leads the field here, especially now that Phase One has added in dedicated Fujifilm Film Simulation profiles to replicate the look of Classic Velvia, Provia, Acros and other film types from raw files.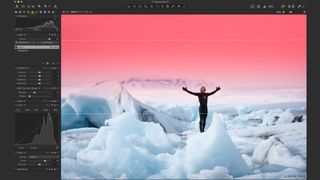 Capture One: how it works, where to get it
Capture works in a couple of different ways. You can import images into a searchable catalog, just as you do with Lightroom, but with the added option of storing images within the catalog itself and not just externally as 'reference' files.
It also offers an alternative 'sessions' based workflow, both for tethered shooting and instant playback and editing, and for browsing and editing your images within their original folders, without having to import them into a catalog.
Capture One offers a similar range of adjustment tools to Lightroom, but with especially advanced local adjustments stored in separate adjustment layers, each with its own mask, and with all adjustment tools available on each layer.
You can find out more at the Capture One website, where you'll also find a 30-day free trial. If you like it, that should give you just enough time to buy Capture One Sony or Fujifilm editions before the August deadline!
Read more:
• This is the best photo editing software today
• Get the best desktop computer for photo editing
• Which are the best laptops for photo editing right now?