Canon has launched a new portable printer that produces square images designed to appeal to Instagrammers. Small enough to fit in a handbag or coat pocket, the Canon Selphy Square QX10 uses dye sub paper, that should produce higher quality images than Instax or Zink portable printers.
The new square printer uses the same dye sublimation printer technology as found on Canon's own Selphy CP1300 printer, which is one of the best portable printers you can buy. Whilst the CP1300 produces postcard-sized images, the QX10 produces smaller 68x68mm (2.7x2.7 inch) images on a 72x85mm (2.8x3.3 inch) sheet of sticker paper.
Alongside the printer, Canon is launching the new format printing packs that supply the ribbon ink and paper that the Selphy Square QX10 feeds on. These XS-20L packs can each produce 20 prints at approximately 75 cents / 75p each.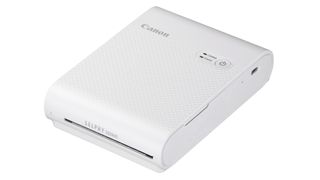 The prints are each produced in 43 seconds, and are said to have a life of 100 years and have a smudge-proof water-protected coating
The QX10 is powered by a rechargeable battery, and is controlled over wifi by Canon's free Selphy Photo Layout app, which is available for Apple and Android phones and tablets. A QR code on the printer simplifies the pairing process. The app can add graphic overlays, filters, stamps, and borders – and produce multiple-image prints. You can also write on the label borders with pen – in classic Polaroid style.
The unit measures 102.2 x 143.3 x 31.0mm, and weighs in at 445g (without ribbon or paper).
The Canon Selphy Square QX10 will be available from March in four different colors – white, pink, green or black. The printer itself will retail for $149.99 / £139.99, whilst the refill packs will cost $14.99 / £14.99 a pop.
Read more
Best portable printers
Best hybrid instant digital cameras
Best large-format printers
Best photo printer in 2020
Best photo printing online
Best 3D printers