Canon has never been one to shy away from pushing the boundaries of camera design, and with its latest release – the Canon PowerShot V10 – it hopes to reshape what an all-in-one vlogging camera can be.
The elephant in the room, the Canon PowerShot V10 is an unusual-looking camera, looking more like a body cam or action camera than what we are used to for a traditional vlogging camera. The design, however, enables the camera to be very small and compact, weighing just 211g. The PowerShot also has a built-in kickstand, as well as a flip-up screen, to make hands-free streaming easier than ever before.
• Check out our Canon PowerShot V10 review, and watch a vlog that we filmed with it!
Canon claims it has shaped and developed the PowerShot V10 based on feedback from vloggers to achieve the goals of simplicity, ease of use, size, image quality, and superior audio. And Canon is clearly feeling confident that this new camera will be a hit, referring to it several times as a first-generation device, suggesting this might be the first in a brand-new line.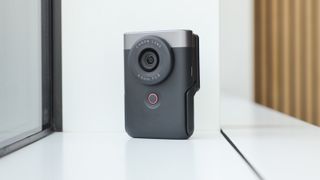 Featuring a 1-inch back-illuminated CMOS sensor, based on the sensor used in the Canon PowerShot G7X Mark III, the PowerShot V10 is capable of recording video in 4K at 30 frames per second, with a maximum ISO of 3200, or if you are happy to drop into FullHD recording, the frame rate can be bumped up to 60p with a max ISO of 6400. The maximum recording time for 4K footage is one hour.
The 6.6mm lens is fixed, with a full frame equivalent 18mm field of view for stills (in a 3:2 ratio) and 19mm for video (16:9 or 9:16). And with a maximum aperture of f/2.8, it should make for an improved low light performance as well as offer a little more subject separation and background blur. The lens is not image stabilized, but the PowerShot V10 has Canon's Digital Movie IS for steadier shooting, although at a penalty of a small crop on the footage. The V10 also has a built-in neutral density filter, capable of up to 3 stops of light reduction.
The PowerShot V10 uses contrast-detection autofocus but has face and eye tracking for continuous focus during vlogging, or focus points can also be selected manually using the 2-inch 180º flipping touchscreen on the rear of the camera. The screen has a specialized user interface developed for the camera, not dissimilar territory if you use other Canon cameras, but options have been streamlined for simplicity and ease of use.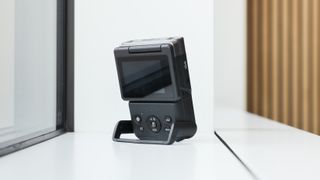 Canon is keen to tout that the PowerShot V10 offers improved audio quality with large stereo microphones at the top of the camera, and there is an automatic digital wind noise reduction feature. Canon will also sell separate wind defenders for the microphones. For more specialized or off-camera audio, there is also a 3.5mm jack for recording sound using an external microphone or monitoring internal sound recording on another device.
For footage that is ready to use straight from the camera, the PowerShot V10 offers 14 color filters that can be applied to footage for different and unique looks. There is also a skin smoothening filter so you look your best.
Not just for vlogging, the PowerShot V10 can also be used for streaming online via the USB-C connection, with direct streaming to YouTube and Facebook easy to set up from the Canon Camera Connect app, although streaming maxes out at 1080p and 30 frames per second. The app has been redesigned to seamlessly connect to the V10 to easily get footage onto your smartphone for fast sharing online.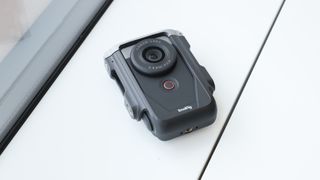 Canon will sell the PowerShot V10 in three options, starting with just the camera itself, although availability of each will differ in different markets. There will also be a Vlogging Kit, which includes a lens cap, windshield, and soft carry case, and finally the Advanced Vlogging kit contains all the above, as well as a custom cage by SmallRig (above) that offers more ways to connect tripods and accessories to the camera.
Prices for the Canon PowerShot V10 start at $429 / £429 / AU$699.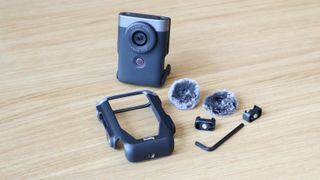 If this article was of interest, you might also like to check out the best microphones for vlogging, the best lenses for vlogging, and our guide on how to vlog.