The Canon Ivy Rec is a unique outdoor camera that doesn't have a screen - simply a carabiner-style clip that also acts as an analog viewfinder. Back in July, when Canon USA first launched their crowdfunding campaign for the Canon Ivy Rec in the United States, some were bemused at the idea of one of the world's largest camera manufacturers crowdfunding a product. However, it's clear that this unusual route to market has unique marketing advantages.
Apparently, the Canon Ivy Rec's preorders sold out in three days. This initially sounds impressive enough, but according to a Canon spokesperson the overall amount they actually shifted was only 500 units. Considering the sheer size of the US - and how many national parks the country holds with plenty of outdoors activities perfect for this camera - this honestly doesn't sound like an overwhelming success. However, we hope to see the unusual camera on show at PhotoPlus Expo 2019 in New York this week.
• Read more: Best action cameras
However, recently Canon Japan took to crowdfunding platform Makuake to try their luck, and they enjoyed a little bit more success. Reported by Canon News, the Japanese campaign sold out all 1,000 units of the Canon Ivy Rec in just one single day.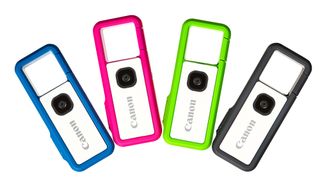 A Canon spokesperson said, "The exhibition on crowdfunding also serves as pre-marketing. When sold on an overseas crowdfunding site, 500 units were sold out in 3 days, but Japan gained momentum. There must be many people waiting for general sales."
While US preorders were sluggish compared to Japan, we're still excited to see how the Canon Ivy Rec performs as a camera. We're also interested to see whether crowdfunding is a marketing technique Canon will use again. While we can't see high-end cameras announced this way, perhaps it's a useful technique to gauge market interest for more affordable items.
The Canon Ivy Rec is expected to be available in the US and UK for just $129.99 / £119 from mid-November.
Read more
Best waterproof and underwater camera in 2019: ready to splash out?
Black Friday microSD card deals: best buys on memory cards for action cameras
Best GoPro cameras in 2019: fantastic action cams you can buy right now