Canon's Australian branch has decided to shut shop – its own online shop, that is.
In a quiet announcement made earlier this week, Canon Australia has revealed that the local Canon Store will be closing on September 30. Whether this decision will be rolled out to other major markets in Europe, America and Asia are as yet unclear, but customers Down Under have until the end of the month to buy cameras, lenses or printers, redeem any Canon Store gift vouchers, and avail any discount currently being offered by the camera maker.
Canon Australia will continue to honour its 14-day Peace of Mind return policy until September 30, but its unique five-year warranty isn't going anywhere. The local branch will continue to offer that whopping warranty period as long as you purchase an eligible Canon product from an authorised retailer.
Payments for backorders have already been stopped and customers looking to buy new products aren't being added to any waitlists. If you've already ordered something and it arrives by September 30, Canon will fulfil its delivery promise, but anything arriving after this date will be eligible for a full refund or will be directed to a local retailer.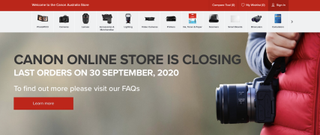 Being supportive
Canon Australia says the decision to shut its online store is to help it "support local retail partners" who have been affected by the current Covid-19 pandemic, although it wouldn't surprise us in the least if it is to cut operational costs locally. Whatever Canon's motivations, being supportive of local retailers is always a positive thing.
The Aussie Canon Store was opened online in 2011 and has only ever accounted for 1% of the company's local consumer product sales. So it won't make a huge impact to Canon's Australian business.
There is no clear indication whether Canon Australia will reopen its online store again but, as of September 30, it will close "for the foreseeable future".
To find out if this closure will affect you in any way, Canon Australia has set up an FAQ page with more details.
Read more:
Best Canon cameras: DSLRs, mirrorless and compacts
The best Canon RF lenses you can get right now
Canon vs Nikon: who makes the best cameras?