If you love beautiful bokeh, a lens with a fast aperture will only get you so far. For really bokehlicious images, you need a lens with an apodization element, but these are extremely expensive… except for the Laowa 105mm f/2 Smooth Trans Focus Lens, which is currently discounted by $220!
Don't worry about waiting for Amazon Prime Day or the Black Friday camera deals, you can get this stunning lens and start shooting sumptuous portraits right now, as the Laowa 105mm f/2 Smooth Trans Focus Lens is just $479!
If you're looking for a special effect optic, this is one of the best portrait lenses for DSLRs – which can be easily adapted to mirrorless cameras, too!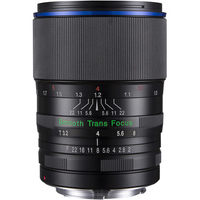 Apodization elements (also known as Smooth Trans Focus) further soften the bokeh in images, delivering impossibly smooth and creamy bokeh that standard lenses simply can't render even with fast apertures.
The Laowa 105mm f/2 Smooth Trans Focus Lens gives similar results to the far more expensive Sony FE 100mm f/2.8 STF GM OSS (along with the Fujifilm XF56mm f/1.2 R APD apodization lens and the Canon RF 85mm f/1.2L USM Defocus Smoothing lens), making it incredible for shooting stunning portraiture.
Read more:
Canon RF 85mm f/1.2L USM DS
The best portrait lenses for Nikon users: for DX and FX DSLRs and Nikon Z
The best Canon portrait lenses for EOS camera users