In unfortunate news for Pentax fans, it looks as if the pool of available Pentax K-mount lenses is about to get significantly smaller. Lens manufacturer Sigma has announced that, due to the the shrinking community of Pentax users, it has decided to stop producing Pentax K-mount lenses.
Part of the reason for this seems to be that Sigma would rather devote time, energy and factory production space to producing mirrorless lenses instead.
• Read more: Best Pentax lenses
The announcement was made on the Facebook page of Sigma Czech Republic, with the official page stating (translated by Google), "Today, Sigma is likely to grieve the thinning Pentax user community by deciding to completely stop producing Pentax mount lenses during the fall. Instead, it plans to focus more on developing and supporting mirrorless systems, in which they see the future."
Perhaps this means Sigma will be focusing on developing lenses for the Nikon Z-mount and Canon RF-mount, which will be a welcome move from Nikon and Canon mirrorless users. With speculation mounting about the upcoming Canon EOS RS, and a 61MP Nikon Z8 rumored to be in development, we would be surprised if Sigma wasn't hard at work developing suitable lenses.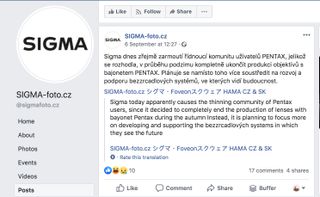 Unfortunately, while this announcement may bring hope to Canon and Nikon users, it will surely only bring frustration to the Pentax community. However, it may not come as a total surprise. With only six Sigma lenses currently available for the Pentax mount (17-70mm f/2.8-4 Macro Contemporary, 18-200mm f/3.5-6.3 Macro Contemporary, 18-300mm f/3.5-6.3 Macro Contemporary, 18-35mm f/1.8 Art, 30mm f/1.4 Art and 35mm f/1.4 Art), it's clear that the K-mount has never been a particularly pressing priority for Sigma.
However, this move has still proved unpopular with Pentax fans, with one Facebook user commenting on the Sigma Czech Republic Facebook post (translated by Google), "Unfortunately, this is a very bad decision Sigma…" and another adding, "Too bad. Even before this they completely neglected [the] Pentax community, as they [only] had [a] few considerable lenses for [the] K-mount."
We can't help but wonder where this will leave the future of Pentax cameras. Will Pentax start producing more lenses to fill the gap? Or maybe Pentax might switch over to the L-mount (the mount collaboration between Sigma, Panasonic and Leica)? We could see this being a great solution for all involved - especially the Pentax user - so we'll keep our fingers crossed.
In the mean time, if you're a Pentax user who's fond of Sigma lenses, we suggest you start stockpiling now…
Read more:
Best Pentax cameras in 2019: from APS-C to full frame and medium format
Best Pentax K-1 Mark II deals in 2019
Best Pentax K-70 deals in 2019