After more teasing than a 6pm burlesque show, full Nikon D6 specifications were finally revealed after five months of titillation from Nikon.
The big N first announced the Nikon D6 back on 04 September 2019, but gave no clues about what to expect. Since then, its rivals have all launched their best professionals cameras – the Sony A9 II, Canon EOS-1D X Mark III and Olympus OM-D E-M1 Mark III – leading to plenty of excitement over what exciting new innovations Nikon would pack into its latest flagship camera.
When the specs finally dropped, there were murmurs of disappointment as many casual shooters bemoaned that it's "the same as the Nikon D5". However, the D6 isn't for casual shooters, it's for professionals – and everything that a professional would use on this camera is noticeably improved from the D5!
So here are the 6 big improvements that you should definitely be excited about on the Nikon D6…
1. Improved AF system
Boasting "Nikon's most powerful AF system yet", the Nikon D6 has completely reworked the autofocus from its predecessor. The AF engine that drives the system is faster than ever before – and although it features 47 fewer AF points than the D5, all 105 points are now cross-type, with 1.6x greater density coverage.
Both subject acquisition and tracking are improved, even under challenging lighting conditions, and a wider selection of Group-Area AF patterns enables photographers to fine-tune the autofocus for the specific subject and scenario. Nikon also brags that, "The D6 is the first DSLR to let you prioritize focusing on your subject's eyes when using Auto-Area AF or 3D tracking."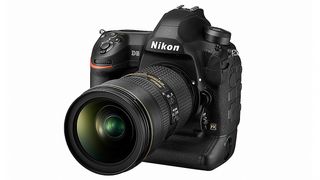 2. Faster, 14fps burst shooting
For sports and action photographers, this is another key improvement – and it's a very big one! While the Nikon D5 could shoot bursts of 14 frames per second in Live View, it was only capable of shooting at 12 frames per second through the optical viewfinder – which is the optimum method for capturing action, as it enables lag-free shooting.
The jump to 14 frames per second with full AF/AE, as well as up to 10.5 frames with AE tracking in Silent Photography mode, is a significant step up for sports photographers (though, admittedly, it doesn't match the 16fps optical shooting speed of the Canon EOS-1D X Mark III, or the 20fps electronic speeds offered by the 1DX and A9 II).
3. 15% faster communication, more connectivity
This is something that means absolutely nothing to non-pros, but means absolutely everything to them! You can take the best photographs of Usain Bolt crossing the finish line ever seen, but if you're in the middle of a stadium and you can't upload those images to your picture editor or agency then they're no use whatsoever.
The Nikon D6 features both Wi-Fi and Bluetooth, and more importantly features a LAN connection that supports the crucial 1000BASE-T standard, with Nikon claiming that it achieves 15% faster communication than the D5.
4. CFexpress support
This is another area where people who've never used CFexpress say it's not a big deal – but if you've actually used a CFexpress card in a pro camera, you know full well how significant this upgrade is.
The dual card slots in the Nikon D6 support both CFexpress and XQD – two formats that offer blistering speeds, both for reading / writing and image transfer, compared to CFast (or SD cards, for that matter). However, while they each accommodate insanely fast shooting speeds, CFexpress is both a newer and a more affordable format, since it is an open platform (unlike XQD, which must be licensed from Sony), which also means there are more cards available from more manufacturers.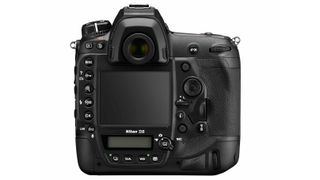 5. Slower shutter speeds
Of course, not all professionals want to go faster; some photography demands that you shoot much slower, and here is where the Nikon D6 really shines. While its predecessor had a slowest shutter speed of 30 seconds, Nikon's next-gen flagship can shoot at a shutter speed of 900 seconds – that's a whopping 15 minutes.
Again, while it's not quite a match for the six hours (!) that the rival Olympus OM-D E-M1 Mark III can keep its shutter open, that still gives nocturnal specialists much more scope to shoot starry skies and light trails.
6. Streamlined, prioritized workflow
As noted in the third point, the Nikon D6 features far better connectivity options and faster transfer speeds than the D5. However, even the fastest transfer can be frustrating if your winning shot is at the bottom of the queue! During automatic transfer of images to a PC via LAN or Wi-Fi connection, it's possible to make your favorite images 'jump the queue' and send them to the top of the transfer list, to make sure that your best shots cross the finish line first.
Nikon has also integrated some helpful options for checking, sorting and filtering images. For example, you can set the primary card to record full-res images, enabling you to quickly check focus, with the secondary card set to record medium or small images, to transfer images at maximum speed.
We look forward to testing all these features and more, when we take the Nikon D6 for a full test drive – then we'll see where it stacks up against the latest generation of pro cameras. Until then, the big takeaway is that, no – the Nikon D6 isn't "the same as the D5"!
Read more:
The best cameras for professionals in 2020: which pro camera system is best?
The best Nikon camera in 2020: including Nikon DSLRs, Nikon Z and Coolpix
The best DSLR in 2020: DSLR cameras for beginners, enthusiasts and pros