3 Legged Thing is expanding its range of L-brackets with two new additions: Alfie, and Ollie, designed for Sony cameras and the OM System OM-1, respectively.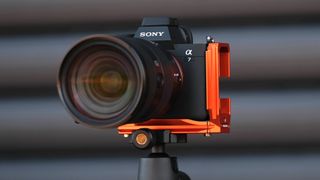 If you're unfamiliar with this type of accessory, the best L-brackets are particularly useful when using a tripod and switching from portrait to landscape orientation, as they enable you to do so without repositioning the tripod head, and you can maintain the same focal plane and weight distribution. Extra mounting points on the bracket itself also allows for easy fitment of accessories, making L-brackets ideal for videographers.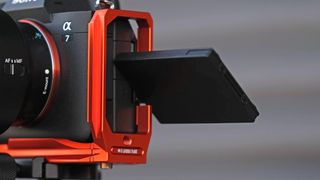 Alfie is 3 Legged Thing's first camera L-bracket built specifically for Sony cameras, including the latest A7 IV and A7R V, but is also compatible with the A7 III, A7R III, A7R IV, A7S II, A7S III, A9 II and A1 cameras. The Alfie bracket is constructed from magnesium alloy and has been designed to precisely fit the contours of the camera, while also allowing unimpeded access to the battery door and side ports. A cut-out in one of the vertical bars allows the rear screen to be opened (either upright or tilted), while the extending base enables cables to be plugged in when the camera is in portrait orientation. A supplied adapter allows the bracket to be paired with Peak Design's Capture Clip system.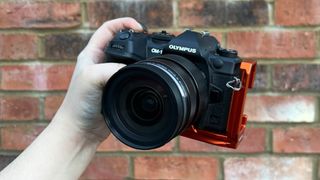 3 Legged Thing claims it was inundated with requests for an L-bracket to fit the OM System OM-1 camera, so it made Ollie: an L-bracket designed to perfectly fit the OM-1. Like Alfie, Ollie's design enables full access to the camera's side ports and battery door, so the L-bracket can remain on the camera at all times. There's also the same cut-out on one of the vertical bars to make way for the camera's flip-out screen, and Ollie shares Alfie's ability to use the camera's side ports, or to tether the camera in portrait orientation.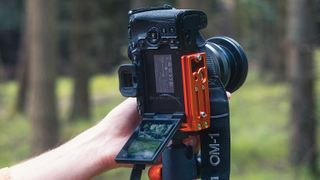 The Alfie and Ollie L-brackets are available in Copper or Metallic Slate Grey colors, and a new 'Darkness' matte black colorway. Expect to pay US $129.99/£109.99 for the Alfie bracket, and US $119.99/£99.99 for Ollie.
Read more:
The best L-brackets
The best Sony cameras
The best Sony lenses
The best Micro Four Thirds cameras
The best Micro Four Thirds lenses