Just a couple of weeks ago, Sony had the full frame mirrorless camera market to itself. But now two of the biggest camera names in the industry have joined in to set the scene for an epic three-way battle. First it was Nikon with its mirrorless Z6 and Z7, and now Canon with its all-new EOS R system.
So let's take a close look at the EOS R, its features, its technologies and where it stands in relation to the rest.
01. What Canon was aiming for
Canon lists three main design aims for the EOS R: high image quality, high-spec performance and compact design. The EOS R backs this up with a robust, weather-sealed magnesium alloy body.
02. A 30.3 megapixel sensor
This is almost identical resolution to the Canon EOS 5D Mark IV DSLR, and significantly lower than the 42.4 megapixels of the Sony A7R III and the 45.7 megapixels of the Nikon Z7, both of which are key rivals. The sensor also has a low pass filter.
03. Advanced Dual Pixel CMOS AF
Canon's most advanced autofocus system to date offers up to 5,655 manually selectable AF points, though the actual number will depend on the camera mode and settings, and the lens used. Canon claims world's fastest AF (for a full-frame mirrorless camera with hybrid on-sensor phase/contrast AF) of just 0.05sec with the RF 24-105mm F4 L IS USM lens. It also offers sensitivity down to -6EV with the RF 50mm f/1.2L USM.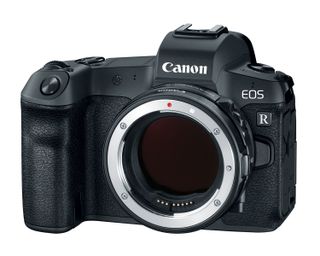 04. No in-body image stabilisation
Canon is sticking with its lens-based IS Image Stabilization system, whereas Sony and Nikon's full-frame mirrorless cameras have in-body stabilisation working in conjunction with lens-based stabilisation (where provided).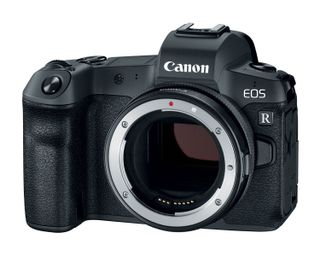 05. New RF lens mount
It has the same 54mm width as the existing Canon EF mount but with a shorter 20mm flange-sensor back focus distance. This allows optical designs with larger rear elements and improved performance. It includes a new 12-pin connection for enhanced communication and power transmission with the camera body.
06. Four new RF lenses, more to follow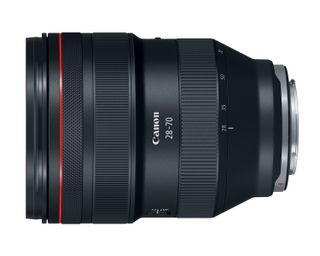 The RF 24-105mm f/4L IS USM (£1,119.99/€1,319.99 when bought separately) is the standard 'kit' lens for the EOS R, while the RF 50mm f/1.2L USM (£2,349.99/ €2,729.99) is a super-fast prime lens for low light photography. These will be joined in December 2018 by the fast-aperture RF 28-70mm f/2L USM (£3,049.99/€3,549.99) and RF 35mm f/1.8 MACRO IS STM (£519.99/ €599.99).
07 Customisable control ring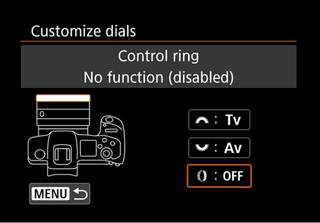 All RF lenses will include a customisable control ring for adjusting aperture, shutter speed, ISO or exposure compensation, and if you choose the EF-EOS R control mount ring adapter (below) we presume this will extend this control to regular EF and EF-S lenses.
08. EF and EF-S lens adaptors, BUT NOT EF-M
Three adaptors will be available including a regular EF-EOS R mount adaptor (£99.99/ €119.99), an EF-EOS R control mount ring adapter (£199.99/€239.99) and an EF-EOS R drop-in filter mount adapter. The lack of support for lenses from Canon's other mirrorless range is somewhat ironic but presumably caused by flange/mount distance issues.
09. DIGIC 8 processor and ISO 40,000
The DIGIC 8 is Canon's latest-generation image processor, and the standard ISO range of 100-40,000 goes up to ISO 102,400 in 'expanded' mode.
10. 8fps continuous shooting
That's just a fraction short of the continuous shooting speeds offered by rival full frame mirrorless cameras, and drops to 5fps with continuous AF tracking.
11. Silent mode
This is ideal for sports or stage performances where absolute quiet is essential, but only available in for single-shot shooting, which could reduce its usefulness.
12. Video features
There are no dramatic innovations here. The EOS R can capture 4K UHD at 30p, 25p and 24p with intra or inter frame compression at 4:2:0 8-bit quality. You can shoot with Canon Log for up to 12 stops of dynamic range, and it does support 10-bit 4:2:2 output to an external recorder.
13. Single SD/SDHC/SDXC card slot
Like the new Nikon Z7, the EOS R has a single card slot rather than the dual slots we're used to seeing on higher-end cameras. Canon has stuck to the conventional SD/SDHC/SDXC card format and the slot is UHS II compatible.
14. Battery life and charging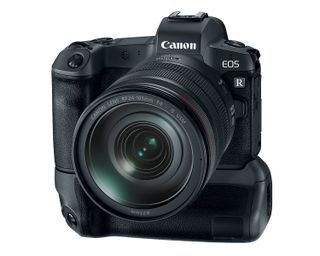 Canon quotes a battery life of 370 shots from the EOS R's LP-E6N lithium-ion cell, but the camera does support USB charging when you're out in the field and there will be an optional BG-E22 battery grip.
15. Electronic viewfinder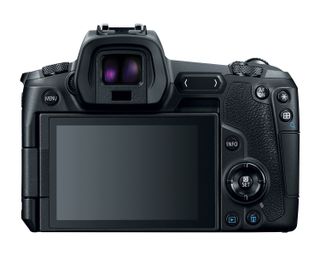 The EOS R has an OLED EVF with a resolution of 3.69 million dots, 100% coverage and a magnification of 0.76x with a 50mm lens focused at infinity, putting it on a par with its main rivals.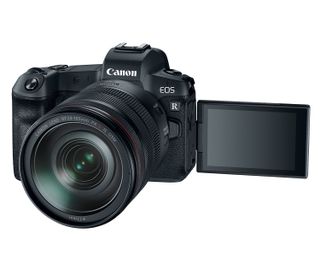 16. Vari-angle touchscreen
Round the back there's a 3.15-inch touch-sensitive screen with a resolution of 2.1 million dots. It's fully articulating with a hinge at the side, which gives it the edge over rival Sony and Nikon mirrorless models which offer tilting screens only.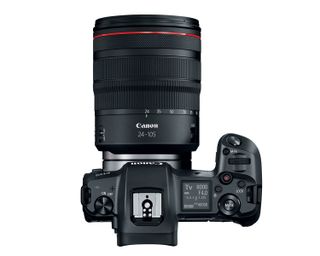 17. Top-mounted status display
This uses a reversed-out (white on black) display similar to the one on the Nikon Z7 and Fujifilm X-H1 to display key shooting and status information.
18. Multi-function bar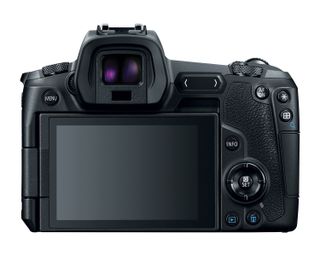 This is shaped like a rocker switch and mounted on the back of the camera just to the right of the viewfinder eyepiece. It's a new feature which can be customised with a 'slide' or 'touch' action for ISO adjustment, for example, or other preferred settings.
19. Digital Photo Professional Express for iPad
DPP Express is a new tool for iPad users. It's a raw image processing, viewing and editing utility for both the EOS R and EOS DSLR cameras. You import images via Canon's Camera Connect and you can then adjust white balance, tone curve characteristics and dynamic range on the iPad.
20. Canon EOS R prices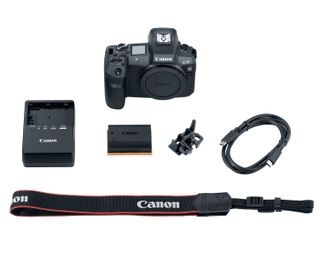 The EOS R has been priced quite competitively and well below the price points for the Sony A7R III and Nikon Z6, so it could appeal strongly to amateur photographers and enthusiasts, not just professionals.
The body only price is $2,229/£2,349.99/€2,729.99 and if you get it as a kit with the RF 24-105mm F4 L IS USM lens, it will cost $3,399/£3,269.99/€3,819.99.
Hands-on preview: Canon EOS R