Cyber Monday is a great opportunity to bag some great deals on that new Nikon camera you've been promising yourself all year. But which model do you really want, and where can you get the best deals?
Read more: How to get the best camera deals on Cyber Monday 2017
Here, we've listed all of Nikon's top current DSLR models and their prices pre-Cyber Monday, so you can get a proper idea of how good the Cyber Monday deals are when they're finally revealed. With the beginner and enthusiast cameras we've included a kit lens in this price, as this is how most users will buy them, but with the more professional models we've listed them by their body alone, since buyers will likely have lenses for that system already.
In any event, look out for other lens/body deals besides those listed below. We are constantly checking the latest offers and prices but these are changing hour by hour, so apologies for any items which are sold out, or for price changes made since our last check.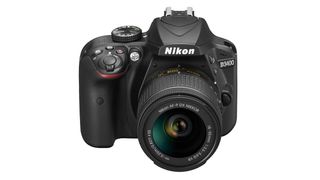 Best Nikon camera and lens deals in the UK for Cyber Monday 2017
Best Nikon camera and lens deals in the US for Cyber Monday 2017
Here's a list of our favourite DSLRs, what we think of them and what we think you should look out for on Cyber Monday. We'll also quote pre-Cyber Monday prices at the top with the best Cyber Monday deals below – that way, you can see at a glance just how much you stand to save.
Nikon D3400 with AF-P DX NIKKOR 18-55mm f/3.5-5.6G VR
• Pre-Cyber Monday price: £449/$497

Best Cyber Monday price (UK): £354 with voucher code CAM75 from Currys
Best Cyber Monday price (US): $396.95 at Adorama
The D3400 is Nikon's entry-level DSLR and a favourite amongst novice DSLR users. It's compact, highly affordable and easy to use, with a simple external layout but a surprising amount of manual control under the surface. Because of this, it's a camera you can pick up and use straight way, but it will still be appropriate as you learn more about photography. It comes with Nikon's impressive 24.2MP sensor, which is also found much further up Nikon's DSLR range, and a neat retractable 18-55mm kit lens.
Read more: Nikon D3400 review
Nikon D5300 with AF-P DX NIKKOR 18-55mm f/3.5-5.6G VR
• Pre-Cyber Monday price: £529/$697
The D5000 series is one step up from Nikon's D3000-series cameras, such as the D3400. While it's still designed for beginners, it brings more features and controls, and more versatility by way of features like the fully articulating rear LCD screen. Interestingly, the D5300 remains on sale, despite being superseded by the D5600 (below). It's an interesting option because although it doesn't have Nikon's latest wireless SnapBridge system, it is one of the few DSLRs to include GPS as standard for adding location data to your photos. As a slightly older model, we reckon this will be one to watch for a good discount on Cyber Monday.
Read more: Nikon D3300 vs D5300 - Specs compared
Nikon D5600 with AF-P DX NIKKOR 18-55mm f/3.5-5.6G VR
• Pre-Cyber Monday price: £609 after £90 cashback/$747
Nikon's latest 'advanced beginner' camera is a little gem. It's compact and light, and not a whole lot bigger or heavier than a mirrorless camera that have their own viewfinder. The rear LCD screen is fully articulating and offers touch control and, thanks to Nikon's new AF-P lenses , the autofocus is surprisingly responsive in live view mode. It comes with Nikon's terrific 24.2MP APS-C sensor and is usually supplied with a neat retracting 18-55mm AF-P lens. It's an ideal companion for travelling and holidays, but equally a great all-rounder if you're not planning on venturing too far.
Read more: Nikon D5600 review
Nikon D7200 with 18-105mm f/3.5-5.6G ED AF-S DX NIKKOR VR
• Pre-Cyber Monday price: £997/$1297 (US price with AF-S DX NIKKOR 18-140mm f/3.5-5.6G ED VR lens)
It's been around for a couple of years now and, to a degree, the D7200 has been overshadowed by the newer and more powerful D7500. Even so, the D7200 is still a great camera with tech that hasn't really aged at all – and it's a lot cheaper than the D7500 and D500 above it. You get a solid, robust body, together with a super-sharp 24.2MP APS-C sensor, plenty of physical controls and 6fps continuous shooting. For enthusiasts looking for quality on a budget, it's still a great buy.
Read more: The 8 best portrait lenses for Nikon users
Nikon D7500 with 18-105mm f/3.5-5.6G ED AF-S DX NIKKOR VR
• Pre-Cyber Monday price: £1499/$1547 (US price with AF-S DX NIKKOR 18-140mm f/3.5-5.6G ED VR lens)
The D7500 borrows some of the speed from Nikon's top APS-C D500 model, and some of the affordability of the D7200 below it, to offer a well-judged blend of performance and value. Nikon's latest 20.9MP sensor features here, which sacrifices almost 4MP against its older 24MP unit, but it brings improved overall performance and image quality together with 4K video and extended high ISO possibilities. You also get a tilting rear touchscreen and 8fps continuous shooting, the result being a camera that has no obvious shortcomings in any areas. All of this means that it ends up being a somewhat pricey DSLR, so any discounts here will be very welcome indeed.
Read more: Nikon D7500 review
Nikon D500 (body only)
• Pre-Cyber Monday price: £1729/$1897
Many keen photographers mourned the end of the old D300s, Nikon's pro APS-C format DSLR, and for a long time it looked like it would never be replaced. But now, after quite some time, Nikon has delivered an exciting update in the D500. The camera is a professional cropped-sensor model that's designed for speed and performance, with a rugged build to match. Lots of pros like it because the smaller sensor gives their telephoto lenses extra reach, but also because it provides 10fps continuous shooting in a solid body, at a far cheaper price than the flagship Nikon D5.
Nikon D610 (body only)
• Pre-Cyber Monday price: £1249/$1497
It's been around so long that it's easily overlooked, but the D610 is a very capable camera for photographers looking for their first full-frame model. It's compact, affordable and well made, and although you have to do without luxuries like an articulating rear LCD screen and touch control, its 24.3MP sensor delivers great all-round image quality. It also offers 6fps burst shooting for the benefit of action photographers, which is surprisingly brisk for a full-frame model of its kind. Its age makes this another one to watch on the big day.
Nikon D750 (body only)
• Pre-Cyber Monday price: £1599/$1797 - get it for £1439 at Amazon
The D750 is the next step up in Nikon's DSLR range and well worth the extra cash over the D610 if you can afford it, if only because you get a tilting rear screen to help with low-angle photography and video. Again, you get Nikon's 24.3MP full-frame sensor, which doesn't boast the crazy resolution figures we're now seeing but does deliver terrific all-round image quality. You also get a better autofocus system than the D610, together with built-in Wi-Fi and 6.5fps continuous shooting.
Read more: The best full-frame DSLRs you can buy right now
Nikon D810 (body only)
• Pre-Cyber Monday price: £2399/$2797
The Nikon D810 used to be Nikon's highest resolution full frame DSLR, but it's since been overshadowed by the 46.3MP D850 model (below). It's still on sale and is still a great camera, and with all the fuss over the D850 you might be able to pick it up at a bargain price this Cyber Monday. The 36.3MP sensor delivers super-sharp results, in part because it has not optical low-pass filter in front of it, while Nikon's long-running 51-point autofocus system is fast and reliable. The D810 has forged an enviable reputation for image quality, so it's definitely one to add to your shortlist if you don't feel like you need the very latest tech.
Read more: Nikon D810 vs D850 - Features compared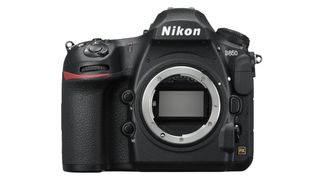 Nikon D850 (body only)
• Pre-Cyber Monday price: £3499/$3297
It's the Nikon that has everything! Normally when you buy a professional camera you have to choose between resolution and continuous shooting speed, but the D850 has both. Its 45.7MP sensor has the highest resolution yet in a Nikon DSLR, and yet it can capture images at 7fps as standard and 9fps with the optional battery grip. The demand for this camera has been so high that many retailers have it on back-order – so good luck if you want one!
Read more: Nikon D850 review