The Sigma 14-24mm f/2.8 DG HSM | A is part of Sigma's 'Art' range, which focus on optical quality and artistic expression, producing outstanding lenses for a host of different shooting situations.
Though it has a slightly more modest maximum viewing angle but a faster aperture rating than the similar Sigma 12-24mm Art lens, this one is pretty much identical size and weight. As with that lens, high-tech glass includes an ultra-high-precision moulded glass aspherical front element, this time combined with three FLD and three SLD (Special Low Dispersion) elements.
The lens is wonderfully engineered and, unlike the Sigma 12-24mm Art, it gains a full set of weather-seals instead of just a sealed mount. Typical of ultra-wide lenses, the built-in lens hood gives physical protection to the bulbous, protruding front element as well as helping to reduce ghosting and flare. Unusually, however, you can have this exchanged for a shorter, circular hood for minimising shadows when using multiple cameras in video capture.
Handling is excellent, with a smooth and precise feel to the zoom and focus rings, the latter enabling the usual manual override of autofocus. The lens is also fully compatible with Sigma's USB dock, making it easy to download firmware updates and apply user customisations.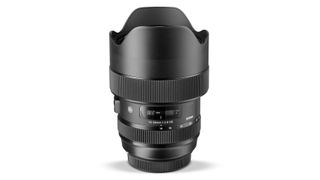 Performance
We subjected the Sigma 14-24mm f/2.8 DG HSM | A lens to a thorough series of lab tests, testing out its optical quality and checking for aberrations. We found sharpness and contrast to be impressive even when shooting at f/2.8. Sharpness at the edges and corners of the frame are better than many comparable full-frame lenses towards the ends of the zoom.
Despite the lab results from our close-range test charts, an impressive facet of this lens is that it's almost free of any distortion in longer-range, general shooting. Colour fringing is also almost impossible to spot, even around high-contrast edges towards the extreme corners of the frame. For performance, it's one of the best around.
Read more:
Best wide-angle lenses for Canon