The Vivo X60 Pro's camera has been co-engineered with Zeiss – the latest in a series of partnerships between smartphone and camera makers, co-branding products to add credibility (and a point of differentiation) to their mobile cameras.
With the OnePlus 9 series recently launching with Hasselblad tuning, and Huawei successfully co-branding its camera phones with Leica for years, there's a great case for the partnership – the OnePlus 9 Pro is widely regarded as one of the best value flagship cameras around. Additionally, Huawei is a camera phone champion – that's become undisputed since shortly after the partnership with Leica came into effect in 2016. But it hasn't always been such a clear-cut success with Zeiss.
While in the Nokia heyday, Zeiss optics led the mobile photography charge with phones like the Nokia 808 PureView, with its 1/1.2-inch sensor and Xenon flash, in recent times, Nokia's Zeiss-branded smartphones – the Nokia 9, for example, haven't wowed.
So while Vivo and Zeiss announced the partnership in December 2020, and the X60 series, which consists of the X60, X60 Pro, and X60 Pro 5G is the first line to benefit from the collaboration, how fruitful it will be is anyone's guess. What we do know, however, is that Vivo and Zeiss created a joint R&D platform – the Vivo Zeiss Imaging Lab, have worked on realizing specific portrait styles for smartphones – Biotar, for example, and the X60 Pro features Zeiss optics.
Vivo X60 Pro 5G: Design and screen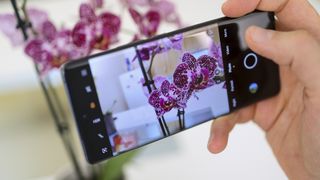 The Vivo X60 Pro is a beautiful phone. It's slender at 7.6mm thin, feels rich thanks to its glass and metal design, and is also lightweight for a premium phone, coming in at 10g less than the iPhone 12 Pro.
With its 6.56-inch AMOLED screen and minimal bezels, the X60 Pro also commands attention from the front, with ample screen size and an impressive screen-to-body ratio of 90.1 percent. That's by comparison to around 86 percent on iPhones.
The screen is also specced out, supporting HDR10+ content, and featuring a 120Hz refresh rate. That means whether you're watching Netflix at 60Hz, or scrolling through Twitter at 120Hz, visuals will look smooth, and the phone's tonal range is broad.
Thanks to a resolution of 1080 x 2376 pixels, the Vivo X60 Pro's pixel density of 398 pixels-per-inch (PPI) keeps clarity on-point, though it can't best top-of-the-line QHD+ alternatives like the Samsung Galaxy S21 Ultra. Given most 2021 QHD+ phones cost a fair bit more than the X60 Pro though, we're perfectly happy with the phone's Full HD display.
Available in two colors, Midnight Black and Shimmer Blue, the Vivo X60 Pro gets a thumbs up whichever option you go for, with a matte finish that repels fingerprints nicely. Proving to be another looker for the line – even if it doesn't break the mold when compared to its predecessor, it's still a great looking package.
Vivo X60 Pro 5G: cameras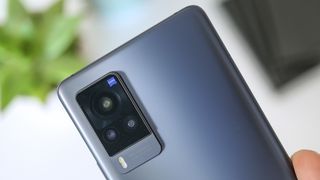 The Vivo X60 Pro's main camera module features a 48MP Sony IMX598 sensor, the same found in the X60's predecessor, the Vivo X51. Matched with a slightly wider f/1.5 aperture, and a 26mm focal length, the camera also features the gimbal stabilization introduced on the X50 series. The half-inch sensor is also matched with PDAF, and features 0.8µm pixels.
Also a chip of the X51's block is the X60 Pro's portrait camera. With its 13MP resolution, f/2.5 aperture, 50mm focal length, and 1/2.8-inch sensor size (with 0.8µm pixels). It delivers a roughly two-times optical zoom, though we wouldn't really use it as a zoom camera unless lighting conditions are great – you'd be better off cropping into shots taken on the main camera.
With the 13MP, f/2.2 ultra-wide camera, Vivo ups the ultra-wide's pixel count versus the X51's 8MP camera. The field of view (FOV), however, remains the same at 120 degrees, which equates to a 16mm equivalent focal length.
Unlike last year's X51, the X60 Pro doesn't bundle in a periscope camera. For that, you'll need to hang tight for the X60 Pro Plus, which has yet to be announced in Europe.
With a front camera resolution of 32MP, selfies are high-resolution and enjoy a wide f/2.5 aperture, matched with a standard 26mm angle of view.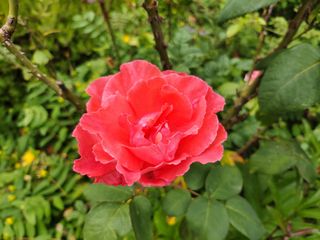 As for shooting modes, Vivo crams in loads, including Night, Portrait, Photo, Video, 48MP capture, Panorama, Live photo, Slo-mo, Time-laps, Pro, AR stickers, Supermoon, Document, Astro, Pro sports, and Long exposure. In Pro mode, the camera's ISO can climb up to 3200, while the shutter can be kept open for up to 32 seconds. Additionally, RAW shooting is supported across all three rear cameras, which isn't always the case.
Vivo X60 Pro 5G: camera performance
While the X60 Pro's imaging specs are very similar to those of the X51, it's clear the camera's photo tuning has enjoyed a glow-up. Could this be the Zeiss-factor, or is it the impact of a second-generation gimbal? Who's to say, but everything feels more polished this time around.
For starters, detail in photos is strong. Despite the fact images are captured at 12MP, the Vivo X60 Pro's photos can comfortably be cropped into five or six times without any noticeable pixel crumbling on-screen.
The phone benefits from improved dynamic range versus the X51, though this produces lower contrast images and video. It makes them better for anyone keen to edit their photos, however, can result in images that look a bit flat. In turn, folks who like to shoot and share, without thinking of editing might be better off with a OnePlus 9-series phone whose photos are punchier.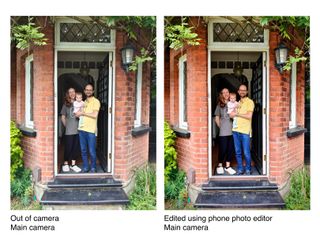 Color balance is generally accurate, even in challenging scenes with difficult-to-handle contrast levels. A lot of information can also be salvaged from shadows, and the X60 Pro's ability to turn out a good looking shot – or a shot that can be boosted with a quick edit a boon for the phone.
Noise handling from the main camera is good in both automatic mode and night mode, with long exposures firing up automatically and keeping the shutter open for enough time to get ample detail. Night shots can't be cropped into with the same trigger-happy enthusiasm as day shots, but it's good to see night mode work across all three of the X60 Pro's cameras. Having said that, with no OIS, let alone gimbal stablization, the portrait/telephoto camera is not set up for success when the lights drop. You would be (much) better off simply cropping into the main camera's photo.
Another interesting factor is the beautifully shallow depth the X60 Pro captures. It could come down to the slightly more open aperture versus last year's model, but whatever it is, the result is noticeable and it looks impressive when capturing close-up objects.
Ultimately, the X60 Pro is a great camera phone – specifically, the main camera. We only took one shot on it that it really struggled with – a punchy, almost coral red flower – with over-exposed reds being a common hurdle that catches digital sensors out.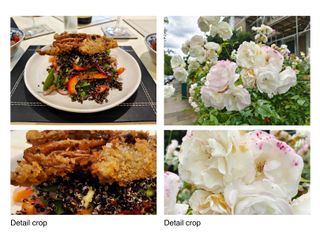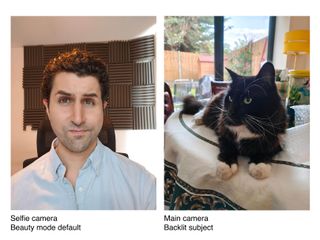 With a highresolution 32MP selfie camera, selfies are sharp enough, though there's a subtle beauty mode fired up out of the box. You probably won't complain, given the fact it's more flattering than that of some other smartphones, like the fantastically affordable powerhouse, the Realme GT. What's also smart is that Vivo takes that beauty filter and applies it to video calls, so we were WhatsApp video calling friends and family while being low on visible pores and high on false confidence.
As for video, which is likely a key focus for a phone with a gimbal camera, it's good, but fails to completely wipe the floor with the competition, and can't stack up to an actual gimbal, like the DJI OM4 when walking. For handheld video capped at 4K 30fps, or 1080p 60fps, it shoots very competitive quality, even in dimly lit scenes. At 4K 60fps, the EIS and gimbal deactivate, though some stabilization is clearly still at play.
Vivo X60 Pro 5G: Additional specs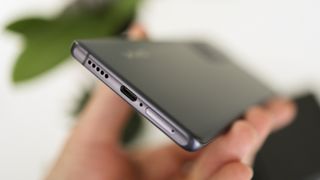 Powered by a Snapdragon 870 5G paired with 12GB RAM, while the camera system is reminiscent of the Vivo X51, the innards have seen a major boost. Not quite the latest, greatest Snapdragon 888 power as found in the US version of the Galaxy S21, or Qualcomm's new Snapdragon 888 Plus, announced at MWC 2021, the 870 5G gives you 2020-grade flagship power, which is more than enough for most.
Running a very stock-looking take on Android 11, Vivo's UI feels hygienic – no bumf in the way of transition flourishes or custom icons; it's very simple, and we like it. Thanks to all the power inside, it also handles 3D games well, and performs the part day-to-day.
Also worth noting, the phone's 256GB storage is more than you get on most flagships today, and means the 4K video it captures will have plenty of space to live before you need to offload it.
Rounding off, the phone's 4200 mAh battery, which charges at up to 33W is far from class-leading in spec, but managed to last much longer than some phones we've tested witha 5000mAh battery – the Xiaomi Mi 11 Ultra, for example. In fact, if you're sparing with use, you could probably eke out two days out of the Vivo X60 Pro, which isn't something we often say for phones with such slender frames and modest battery capacities.
Vivo X60 Pro 5G: Verdict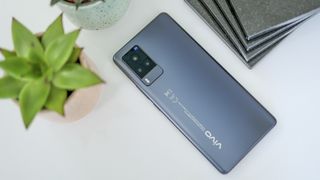 We had a great time reviewing the Vivo X60 Pro. It doesn't pack everything we wanted it to – wireless charging and far-reaching telephoto capabilities are probably the most notable missing links that held it back from end to end excellent. That said, Vivo delivers a great user experience in the X60 Pro, and the main camera is very reliable.
We had high hopes given the Vivo X51's track record, and while the X60 Pro doesn't feel like a revolutionary step up, and it isn't clear just how much of a difference the Zeiss partnership has made, the phone takes great photos and shoots impressive video. More to the point, with better internals and stacks of storage, it also feels like a flagship day-to-day, while lasting a long time.
If you're wondering where the X60 Pro is positioned, we think it sits very well between the OnePlus 9 and OnePlus 9 Pro, or between the Galaxy S21 and S21 Ultra (despite being cheaper than the S21). If you can't quite stump up the cash for the premium options, but love a curved OLED screen and fancy a more premium-feeling handset than the plastic-backed OnePlus 9 or Samsung Galaxy S21, Vivo's plucky X60 Pro could be one of the best camera phone options for the price, and with some Zeiss branding thrown in for good measure no less.
Read more
Best camera phone in 2021
Best 5G phone
Best Sony phone
Best iPhone for photography
Best fold phone
Best camera for TikTok
Best TikTok lights
Best student laptop