MWC 2021 opens this week - so what are we expecting to see? MWC is one of the biggest shows on planet when it comes to phones, and usually it is a place where a myriad of new handsets get launched, all wanting to top the best camera phone list. But this year things are likely to be different…
The show is usually held in Barcelona in February, but last year the event was cancelled at the eleventh hour as Covid-19 started to take its grip on the world. This year, the show was postponed til the summer and will be a hybrid event.
• iPhone rumors, Samsung Galaxy news and smartphone leaks
Although there will be some real exhibitors and visitors - much of the show will be a virtual, online event. Many key companies have decided not to make the trip to Spain, due to ongoing travel restrictions and to avoid putting their employees at risk.
What is MWC 2021?

MWC stands for Mobile Word Congress - and is organized by the GSMA, the global industry association, first formed in 1995 to promote 2G GSM digital phones. The show was first held in 1987, and in 2019 attracted over 100,000 to the Fira Barcelona Gran Via exhibition halls in Barcelona, Spain. There are now additional MWC spin-off shows in Shanghai and Los Angeles.
When is MWC 2021?
It takes place in Barcelona 28 June to 01 July. And whilst not all companies will be at the show, many will choose to have press briefings and make product announcements to time with the show.
In reality, we expect far fewer launches than usual. But there will be lots of speeches from leading industry figures (Elon Musk is giving one of the main keynote addresses). Many of the sessions will be centered on the themes of the Internet of Things (IoT) and 5G - and discussing how cellular technology can be used in much, much more than just our phones.
But, all the same, we will be bringing you all the news, as and if it happens…
Samsung at MWC 2021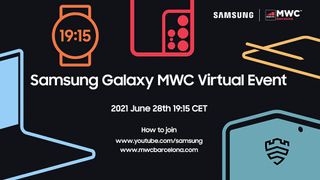 One of the biggest virtual press events at MWC is undoubtedly going to be the Samsung Galaxy briefing. This is due to take place today, Monday 28 June at 6.15pm BST, 1.15pm Eastern Time.
We are expecting this to be centered around details of the next generation of smartphones. But there is also a possibility that we will get handset news too.. There are strong rumors that its next foldables - Samsung Galaxy Z Fold 3 and the Samsung Galaxy Z Flip 3 are in the works, and we may get some sort of progress report on these. Samsung is also expected to launch its updated tablet, the Samsung Galaxy Tab S8 later this summer.
You will be able to follow the event yourself on Samsung's YouTube channel.
Lenovo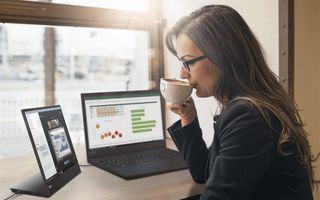 Laptop specialists Lenovo was one of the first companies to announce its new products for MWC. Last week it revealed a series of new new ThinkPad laptops and Chromebooks - including a 5G-enabled ThinkPad X1 Extreme Gen 4. Also revealed were a ThinkVision MC50 webcam, and a ThinkVision M15 portable monitor.

TCL
Budget phone manufacturer TCL is also expected to show its next generation of phones at MWC. In the teaser video, it is suggesting it will be concentrating on adding more affordable 5G models for its Series 20 handsets.
Read more:
• Best camera phone in 2021
• Best budget camera phones
• Best iPhone for photography
• Best burner phone
• Best 5G phone
• Best phablets
• Best flip phones
• Best phablets