Samsung has been leading the foldable charge for over a year now, with the original Galaxy Fold was announced in September 2019. Since then, the likes of Huawei and Motorola have touted their flexible wares with varying degrees of success, and more noteworthy failures. Even Samsung's seminal foldable made headlines for the wrong reasons, but second time's a charm… or is this the third? The Galaxy Z Fold 2 certainly hopes it has something that is worth of competing with the best flip phones, as well as being the best fold phone.
Indeed, the specs of the Galaxy Z Fold 2 read impressively - flagship power, bigger screens, more mAh, and a better ultrawide camera. Sure, we wish the other cameras were beefed up in line with those of the Galaxy Note 20 Ultra 5G, for example, but you won't buy this phone on the merits of its cameras. In fact, you probably won't buy this phone at all - it costs $2k. If you do though, it'll be down to that futuristic, foldable two-in-one design.
Design and screen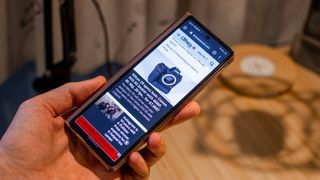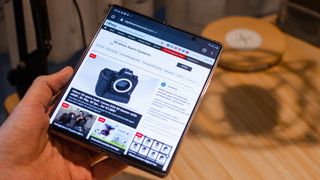 You'd expect a foldable that's a tablet and smartphone two-in-one to be on the beefy side, and the Samsung Galaxy Z Fold 2 5G doesn't disappoint. Closed, it's a hefty 16.8mm thick, taking up a good amount of space in a hand or pocket. What saves this phone instantly from damning critique regarding its heft, however, is the fact it looks exquisite.
Carrying forward the Note 20 Ultra's refined design language, it sees buffed metal, frosted glass, and statement elements showcased beautifully. The colors have also been carried forward from the Note line, with our Mystic Bronze version striking a balance between elegant and accessible masterfully, and a Mystic Blue option available as well.
On the right of the phone is a power button, which doubles up as a fingerprint scanner, at the base is a USB-C port, loudspeakers sit at the top and bottom, and the striking hinge is to the left. There is a gap in the Z Fold 2 when closed, but this doesn't affect usability when navigating across its 6.23-inch cover display.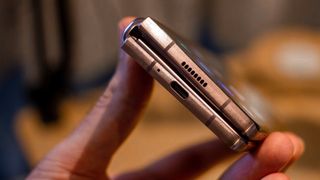 Speaking of that front display, Samsung fixed the biggest issue with the original fold, which had a pokey 4.6-inch cover display. This was too small to use comfortably and resulted in users being forced to unfold the Fold, even when inconvenient.
The Galaxy Z Fold 2 5G's cover display is all-screen, tall, and usable. With a resolution of 816 x 2208, it's very slim, with a 25:9 aspect ratio. While there's no high-refresh-rate on the front, the screen's Super AMOLED tech shines, and it's protected by Gorilla Glass Victus.
The cover display's height takes a little getting used to - it's very tall, but it doesn't take long for it to become the main point of interaction with the Z Fold 2. This fact gives us more confidence in the foldable's durability - you don't need to open and close it as much as last year's model as it delivers a usable phone experience; but when you do open the Galaxy Z Fold 2 though, it's a special occasion.
The hinge mechanism of the Z Fold 2 is secure throughout its range of motion, and as you unfurl it, the reveal of a 7.6-inch tablet display with a 1768 x 2208 resolution is striking. With a 120Hz refresh rate, the inner screen is iPad Pro-smooth, and HDR10+ credentials are carried forward from last year's model. It's also a thin tab at 6.9mm.
There is a crease that runs vertically down the center of the phone's screen - Samsung isn't shying away from that fact. It's noticeable, and it isn't going away, though in low light, and when watching bright content head-on, it's all-but-invisible. Additionally, the screen's picture quality, colors, viewing angles and brightness all impress.
Cameras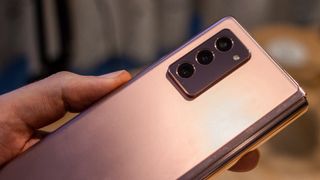 The Samsung Galaxy Z Fold 2's main camera module features a 12MP resolution, 1/1.76" sensor, and an f/1.8 aperture lens with a 26mm focal length. For reference, the Note 20 Ultra 5G's sensor is 1/1.33", and the Huawei P40 Pro sensor is 1/1.28". In turn, the Galaxy Z Fold 2 5G isn't the best camera phone of 2020 based on specs alone.
With a 12MP f/2.4 telephoto camera, the Z Fold 2's optical zoom range equates to roughly 2x, with the sensor being a tiny 1/3.6". On the plus, both the primary and telephoto cameras sport OIS and PDAF, so keep things steady.
Finally, the ultrawide camera sports a 12MP sensor, an f/2.2 lens, and a standout 12mm ultrawide camera - much wider than most.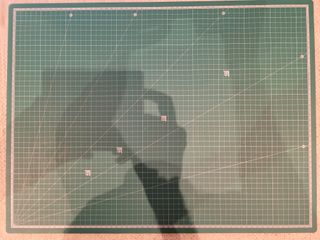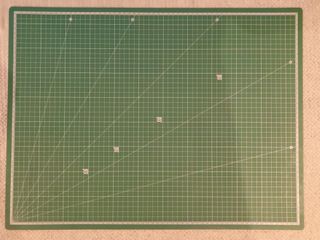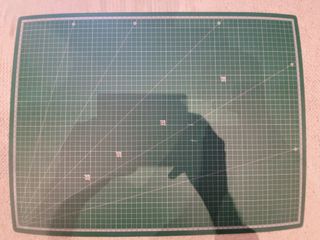 Samsung's loaded both its folds with a selfie solution with a twist - two selfie cameras, one on the cover, and one on the inside. Matched with an f/2.2 aperture and a 26mm focal length, the Galaxy Z Fold 2 front camera specs read well on paper and thanks to 4K video capture at 60fps, outperform most selfie cameras on that front.
As far as shooting modes go, there are no surprises here - auto, night mode, pro mode etc. What is exceptional is the fact Pro Mode lets you manage shutter speed, and half folded, the Galaxy Z Fold 2 5G is basically its own tripod. The camera UI reorients when it's in 'laptop' orientation (see image below), with controls on one half of the screen, and a preview on the other.
Camera performance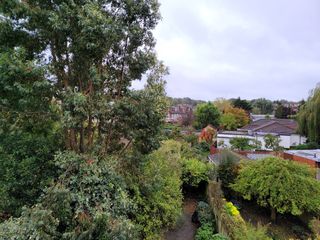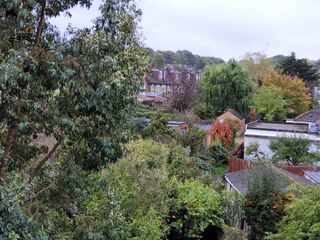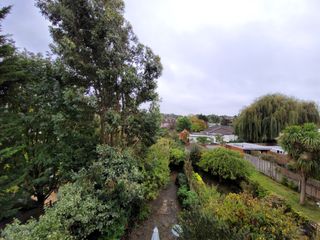 Samsung has its own special sauce when it comes to processing, and it's one many discerning photographers won't love. The sharpening and contrast boosting applied in automatic mode is great for the 'gram, but when you actually want some mileage out of your photos in the editing suite, it's just too much.
For a 12MP sensor, clarity is fair in images from the Fold 2. Indoors or out, when lighting is abundant, there's very little to complain about when it comes to detail, aside from some harsh sharpening. The camera delivers a fraction of the shallow depth captured by that of Note 20 Ultra 5G, so its photos don't look as striking, but its images still pack a degree of dynamism.
The Ultrawide sensor's photos have consistent barreling despite its field of view which is impressive - no warping here as on some smartphones, and distortion can be adjusted for in the settings. Its detail is also strong - around on-par with the main camera when the light is right. Having said that, being a fixed-focus lens, there are no ultrawide macro party tricks a la the Huawei P40 Pro Plus.
The telephoto is the weakest camera in terms of the three. Its color balance is the least consistent, warming things up a bit much in artificial light, and delivering the poorest detail. That said, get the Galaxy Z Fold 2 on a surface half folded, and the extra stability means you can still grab some cracking shots from it.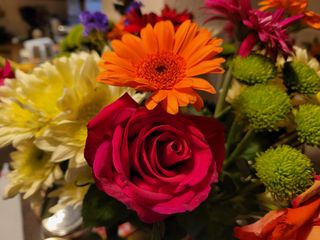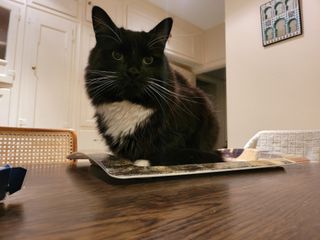 Noise handling isn't fantastic across any of the Z Fold 2's cameras, it's just fine. The night mode isn't a patch on that of the Pixel 4, or iPhone 11 Pro, and you really will need to dip into Pro mode if you want to 'see in the dark', something other phones, especially Huawei flagships are able to do handheld.
When you do fire up Pro Mode, you can enjoy up to 30-second shutter speeds, manual focus complete with focus peaking, control over tint, contrast, saturation, highlights, and shadows, not to mention the option to fire up RAW shooting.
Video shot on the Galaxy Z Fold 2 5G is smooth for the most part and looks glorious in well-lit scenes. It's captured up to 4K resolution at 60fps, so while doesn't keep up with the 8K S20 Ultra, is at least in line with the competition.
Selfies shot on either of the Z Fold 2 5G's 10MP cameras look good, despite the fixed-focus lenses. Meanwhile, Samsung's selfie video stabilization is also on-point, however, in low light, even stabilization can't save the day from grain.
Samsung Galaxy Z Fold 2: Additional specs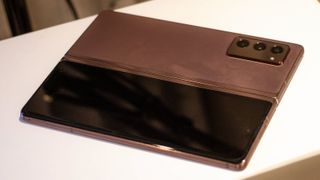 Powered by a Qualcomm Snapdragon 865+ chipset and matched with 12GB RAM, the Samung Galaxy Z Fold 2 is one of the most powerful phones you can buy. It's loaded up with either 256GB or 512GB storage - plenty - and it's nippy UFS 3.1 storage at that (though there's no microSD card slot here).
Running Android 10 with Samsung's OneUI 2.5 over the top, app support is excellent and the UI is customized to take advantage of the folding form. The phone supports multitasking across up to four apps in one view when in tablet orientation, and some apps, though admittedly only a few, offer redrawn UIs to take advantage of the phone's foldability - the camera, for example.
Thanks to a 4500mAh battery, the Z Fold 2 lasts a comfortable day without issues unless you go heavy on using it as a tablet - and with fast charging up to 25W, it powers up relatively quickly. This can't stack up to the 65W charging of the Oppo Find X2 Pro, however, beats out the iPhone 11 Pro Max's 18W max charging speeds. The phone also supports wireless charging up to 11W, and reverse wireless charging available up to 11W.
Samsung Galaxy Z Fold 2: Verdict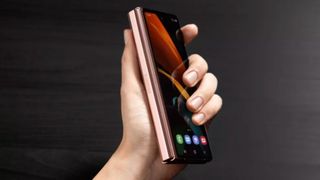 The Galaxy Z Fold 2 takes foldables from proof of concepts to working solutions. Its camera was never going to steal the day, its design was, and it does. The Fold 2 looks glorious, its hinge mechanism feels robust, and while that flexible display is still more fragile than glass, the phone's revised design minimizes a reliance on it. At £1,799, the Fold 2 is a very niche phone that most won't even consider buying. While it fails to democratize foldables, however, at the very least, it proves that they can be fantastic bits of kit day-in, day-out.
Read more:
• Best camera phone in 2020
• Best budget camera phones
• Best iPhone for photography
• Best burner phone
• Best 5G phone
• Best phablets
• Best flip phones
• Best phablets