Samsung has revealed the Samsung Galaxy Fold… again. The new, non-breaking version of the troubled handset is available now in the manufacturer's home country of South Korea, with releases in "select" countries to follow.
"During the past several months, Samsung has been refining the Galaxy Fold to ensure it delivers the best possible experience," said the company "Not only we improved [sic] the Galaxy Fold's design and construction, but also took the time to rethink the entire consumer journey."
Its revised construction aside, the Samsung Galaxy Fold remains the same as last we saw it, right down to its Cosmos Black and Space Silver color options, and on paper at least could still be one of the best camera phones – especially with a 5G version in certain territories.
When folded, its 'cover camera' is a 10MP f/2.2 selfie camera. Unfolded, it boasts a dual-camera array with a 10MP f/2.2 sensor and an 8MP f/1.9 RGB depth camera. On the rear, meanwhile, the phone features a triple-camera setup with a 16MP f/2.2 ultra wide-angle, a 12MP f/1.5-2.4 wide-angle, and a 12MP f/2.4 telephoto camera.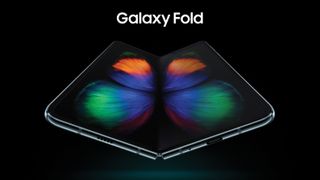 In terms of its screen, the Samsung Galaxy Fold features a 4.6-inch, 21:9, HD+ Super AMOLED display when closed. When unfolded, the display becomes a 7.3-inch, 4.2:3, QXGA+ Dynamic AMOLED – which could also make it one of the best tablets for photo editing on the go.
While Samsung falsely claimed a "First-of-its-Kind User Experience" (when the Fold was recalled, the world's first folding camera phone was actually the Royole FlexPai), the expanded screen size promises to be a game changer… provided it doesn't break, this time.
According to Metro, "this mega-display will allow users to interact with three apps at once and Samsung worked with Facebook, Google and Microsoft Corp to create special versions of their popular apps to fit the new screen."
The Samsung Galaxy Fold is priced at $1,980 / £1,800 and will be available in the UK on 18 September, with a release in the USA and Europe "in the coming weeks".
Read more:
Samsung Galaxy Fold gets September relaunch, but can its reputation be fixed?
Samsung Galaxy Note 10 Plus review
Samsung Galaxy S11 to feature Samsung's 108MP sensor, 6K video, 10x optical zoom