Film cameras continue to see a resurgence in popularity, as emerging young shooters seek a more tactile, analog photographic experience than digital cameras, and traditional (let's not call them old) photographers look to hark back to the cameras that they learned the craft with.
Here at Digital Camera World, we review all the latest cameras upon release, but what about the original film cameras that kickstarted the industry as we know it today? Launched way back in 1978 (just a few years after the Canon AE-1 and six years after the original Olympus OM-1) the Nikon FE was an incredibly popular 35mm SLR with advanced amateur photographers.
The Nikon FE is one of the best film cameras that you can still buy, for a number of reasons. It does everything you need, and (unlike the latest digital cameras) nothing you don't. It's solidly built, easy to use and operate, and offers a great balance of price and performance.
Despite being a regular user of the Canon EOS R6 and Fujifilm X-T5, I recently picked up the Nikon FE on eBay to carry out a few creative assignments, and I was blown away by how much I enjoyed the experience. I haven't shot on film since university, and while it might be more expensive to buy and develop the best film for 35mm cameras, I'm almost sure it's worth the reward when you get the images back.
Let's look at what makes the Nikon FE a worthy film camera to buy in 2023.
Nikon FE Specifications
Lens mount: Nikon F
Exposure control: Manual, aperture priority
Shutter speed: Mechanical 1/1000 sec to 8 seconds, plus bulb
Film speed: ISO 12 – 4000
Exposure metering: Center-weighted
Battery: 2x S76 / A76 / LR44 / SR44 batteries
Dimensions: 142 × 57.5 × 89.5 mm
Weight: 590g
Nikon FE features
The Nikon FE is an F-mount camera, which can be used with most vintage Nikon lenses. Its shutter is electronically controlled and metal-bladed, with a range of 1/1000sec to a maximum of 8 seconds, while Bulb mode is mechanical and unlimited. Flash sync speed is 1/125th of a second. With the exposure compensation dial, you can go two stops over or under, while the ISO ranges from 12 to 3200.
I haven't tested it yet, but camera expert Ken Rockwell explains that the FE has an automatic mirror lock-up for when you're using it on a tripod. All these things add up to make the Nikon FE a surprisingly good companion for night photography, even astrophotography if you use film that's sensitive enough.
Nikon FE Design and operation
There's no denying that the Nikon FE is a good-looking beast, especially if you're into retro cameras. I chose to pay a little more in order to get a model in amazingly good condition, but there are lots of very well-kept cameras on there. Its design is conservative, yet classy and sophisticated, even 45 years later.
At its inception, the Nikon FE was built for durability, and it certainly ages well, if my camera is anything to go by. In terms of materials and construction, the Nikon FE has a tough faux-leather exterior and high-strength metal copper-aluminum alloy, as well as gold-plated electrical switches (according to Wikipedia).
The camera's top plate is incredibly well laid out, perhaps even nearing perfection. On the left of the pentaprism (and flash hot shoe mount) there's an ISO film selector dial with a locking exposure compensation dial underneath. To the right, a dedicated shutter speed dial with Auto-lock, a shutter button with a thread for a cable release, and a lever to wind on the film. This also acts as an ON/OFF for the camera and overhangs the body ever so slightly so that you can reach it with your thumb.
This approach to exposure setting dials has been emulated in some of the latest mirrorless cameras on the market. But of course, with the Nikon FE, you also get a window to show you how many exposures are left on the film.
The Nikon FE is well-proportioned and easy to hold and grip. It most commonly comes bundled with a 50mm lens, but I bought it body-only, with a separate 28mm lens for wider angles. As you'd hope, it's easy to support the camera in your right hand and change the aperture and focus on the lens with your left.
Nikon FE Sample images
We're just in the process of getting sample negatives from the Nikon FE developed and scanned, and have tested it with a range of films including the Ilford HP5 Plus, Kodak Portra 800, and Lomography LomoChrome Purple from Analogue Wonderland.
Nikon FE Verdict
The Nikon FE is an easy camera to fall in love with, because of its simplicity, rather than in spite of it. Without getting bogged down with extensive menus and choices, you can pick it up and focus on the pure joy of photography.
Its viewfinder is clear and bright, and depth of field preview is effective, but the camera offers enough controls to leave you fully cognizant of how and why you're shooting – both in terms of composition and exposure.
The Nikon FE might seem a little rudimentary now, but it helped open up more advanced features to a much wider audience. Relatively risk-free for the price, the Nikon FE is still a very capable SLR and the perfect model for photography students who want to delve into film, wannabe retro hipsters wanting to get into film photography, or old-school enthusiasts wanting to relive the glory days of film cameras from the late 70s.
Where to buy the Nikon FE
With the Nikon FE proving incredibly popular, before you jump on eBay it might be worth asking relatives if they have one – you never know what might be tucked away in a shoebox in the back of a cupboard. Otherwise, the best place to track one down is eBay or camera stores with secondhand sections like Adorama.
A Nikon FE in nice condition with a 50mm f/1.8 lens shouldn't set you back more than about $150 / £175. Just be mindful that there can be a few issues if the camera hasn't been looked after, namely poor light seals and the reflex mirror returning slowly which results in a loud squeak.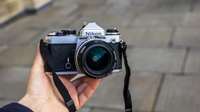 Find the Nikon FE on eBAY
A Nikon FE in nice condition with a 50mm f/1.4 shouldn't set you back more than much more than $150. Just be mindful that there can be a few issues if they haven't been looked after, so try to find a model that's been fully tested – and check the seller reviews to see what other customers have said about their cameras.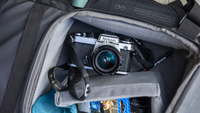 Find the Nikon FE on eBAY.co.uk
A Nikon FE in good condition with a 50mm f/1.8 will cost around £170, but you can find body-only examples for around £75. Just be mindful that there can be issues with the sensor or mechanisms that the seller may not even know about.
---
Love shooting film? You might also like the best darkroom equipment, the best film scanners and the best Lomography cameras.