The D850 is not as big and heavy as a professional sports camera like the Nikon D5 or Canon EOS-1D X II, but it's still a pretty hefty camera – especially when fitted with one of Nikon's constant aperture professional zooms like the 24-70mm f/2.8.
But the controls are classic Nikon, so if you've already used one of Nikon's pro DSLRs, you could pick this one up and start shooting straight away. If you're swapping from Canon or another brand it might take a little longer to get to grips with Nikon's sometimes idiosyncratic control layout.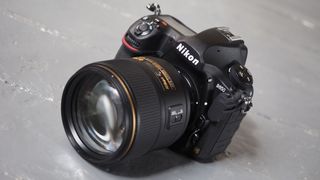 It's not immediately obvious when looking through the viewfinder that this is Nikon's largest viewfinder yet (it is), but it is big, bright and clear and a reminder that even in an market where mirrorless cameras are gaining ground, there's still a lot to be said for a classic optical viewfinder.
There is obviously some blackout during high-speed continuous shooting, but it doesn't stop you keeping fast-moving subjects in the frame and it doesn't have the stuttery lag of many electronic viewfinders at high frame rates.
Autofocus is fast and positive, though the speed of acquisition will also depend on the lens you're using and its autofocus actuators. The small thumbstick on the back of the camera is in the perfect position to find it by 'feel' so that you don't have to take your eye from the viewfinder to change the focus point.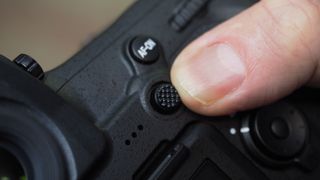 The Live View mode is activated by a button on the back, with a lever for switching between stills mode and video. Like other Nikon DSLRs, the D850 uses regular contrast autofocus, which is sluggish compared to Canon's Dual Pixel CMOS AF and Sony's hybrid AF systems, though it does feel a little quicker in this camera than we're used to with Nikon DSLRs. It's possible the D850's powerful EXPEED 5 processor has something to do with this.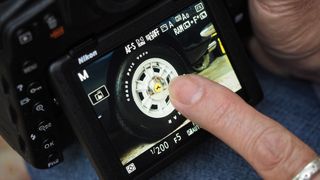 The rear screen's high resolution creates a super-sharp image for Live View photography and the touch-focus option is simple and intuitive to use. You can also set the camera to touch-shutter mode so that it takes a picture as soon as focus is achieved, though most photographers would probably prefer to separate the focus and shutter actions so that they have a moment to check the camera has acquired focus successfully.
The tilting display is another bonus, and while you wouldn't use the D850's Live View mode for fast-moving subjects, it's a really pleasant tool for more considered and precise tripod-mounted photography.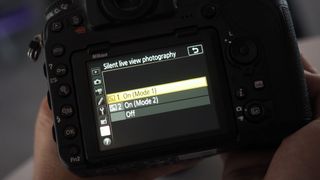 If you're planning on doing a lot of action photography or extended portrait format sessions, the MB-D18 grip would be a very smart investment. It takes the D850 up to the size and bulk of a Nikon D5 or EOS-1D X II, but does offer faster continuous shooting and greatly extended battery life (with Nikon's EN-EL18b battery) as well as a handy set of duplicate controls for vertical shooting. It fits on very neatly, but doesn't quite offer the 'seamless' design of the D5.