It's hard not to be won over when you take a new Fujifilm camera in hand. The classic design language of its bodies makes them among the most beautiful on the market. They're more than just style over substance, however (notwithstanding the fact that style is substance), and the Fujifilm X-T30 continues the company's trend of producing fantastic-looking cameras that deliver equally fantastic-looking results.
In a similar vein to the Fujifilm X-T20, which crammed the key features of the X-T2 into a small lightweight frame, the X-T30 takes all but the most advanced functions of the celebrated Fujifilm X-T3 and compresses them into an even sleeker form factor.
On the one hand this means that there's not much new and exciting that hasn't been seen before, and the upgrades may not be quite enough to entice X-T20 owners into trading up. On the other hand, let's face it, you're getting near-X-T3 performance in a body that's only 383g and costs just £849.
Fujifilm X-T30: Specifications
At the heart of the X-T30 is a 26.1MP X-Trans CMOS 4 sensor, powered by the X-Processor Pro 4 processor, taken straight out of the X-T3. This not only gives the new camera a larger sensor than the X-T20 but also bestows it with triple the processing speed of its predecessor, resulting in performance that's equivalent to its bigger brother (at least, in terms of stills).
The number of phase detection pixels has been almost quadrupled from the X-T20 to 2.16 million, and the phase detect autofocus area now covers 100% of the frame. Low light AF performance has also received a significant boost, from +0.5EV to -3EV.
The X-T30 can achieve blackout-free burst speeds of up to 30fps using the electronic shutter (though this incurs a 1.25x crop), or 8fps with the mechanical shutter.
It records in oversampled 6K to produce 4K video up to 30fps, outputting to 4:2:0 8-bit internally or 4:2:2 10-bit via HDMI. In 1080p it can shoot up to 60fps or 120fps in High speed rec mode, and it also supports the DCI 17:9 format.
In terms of the beloved Film Simulations, there are 16 modes: Provia/Standard, Velvia/Vivid, Astia/Soft, Classic Chrome, Pro Neg.Hi, Pro Neg.Std, Black & White, Black & White+Ye Filter, Black & White+R Filter, Black & White+G Filter, Sepia, Acros, Acros+Ye Filter, Acros+R Filter, Acros+G Filter and the new Eterna/Cinema.
Fujifilm X-T30: Features
As noted, the X-T30's feature set is roughly on par with the X-T3. However, until the forthcoming Generation 4.1 firmware is released in April, the X-T30 actually has a few features that are actually more advanced than its older sibling. Chief among these are some incremental but impressive improvements in face and eye tracking.
Previously, faces were not trackable by the processor until they were at least 10% of the vertical axis (about the height of an average person filling the frame). Now, faces can be tracked when they are as small as 7% of the vertical axis (roughly equivalent to a person with about 2 feet of space above and below them). In practice, what this means is that face detect can recognise and lock onto a subject from further away.
Face detect is also more robust, and isn't as easily interrupted when an obstacle passes in front of the subject being tracked. In addition, when there are multiple faces in the frame, you can now use the touchscreen or joystick to choose which subject to track using the Face Detect feature.
Eye tracking has been made more stable, as the tracking box isn't as jumpy or erratic when following its target. It has also received a new visual interface to make the screen less cluttered, with a single green box around the eye being tracked (rather than a green box around the whole face, with a second yellow box around the eye).
Among the new autofocus features is Non-stop Phase Detection AF, which Fujifilm claims provides up to 300% faster focusing from far to near or near to far especially with telephoto lenses. So even when there is a huge gap between subjects (for example, when shooting a football match), the X-T30 should snap focus to the next subject much faster than before.
Fujifilm X-T30: Build and handling
If you've handled the X-T20 then you know almost exactly what to expect here. The X-T30 is largely the same in size, though it's about 5mm skinnier thanks in part to the 1.3mm thinner LCD screen – which remains tilt-only.
Speaking of the LCD, Fujifilm promises that the production model will feature a more responsive touchscreen. It's by no means sluggish, but it does still feel a hair of a second slow – the reason being, according to Fuji, that the screen needs to accommodate multiple gesture inputs.
There is a difference, for example, between swiping the screen and tapping a new focus point. The slight lag in registering the right command is arguably better than an overzealous screen that mistakes your half-swipes for taps, but other manufacturers have produced more responsive screens all the same.
The screen is the same 3-inch, 1.04 million-dot display as the X-T20, and it retains the 0.39-inch, 2.36 million-dot electronic viewfinder with 0.62x magnification – although Fuji has increased the brightness and implemented smoother Live View up to 100fps, making the refresh less jerky than before. As with its predecessor, the X-T30 has a single card slot.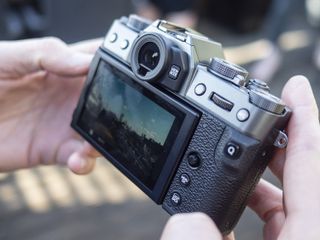 The big change comes in the form of the new joystick – or Focus Lever, as Fujifilm calls it – which has been imported from the X-T3. This is part blessing, part curse. Because as useful as a joystick is when it comes to navigation and selecting focus points (especially when, like this one, it can move points diagonally), the real issue is that the D-pad has been dropped altogether.
While a joystick is better than a D-pad for moving your focus points, the problem is that the D-pad doubled as four additional buttons – meaning that you lose four direct control inputs. The joystick has also been put in an awkward position that's unnaturally low, sitting just below where your thumb expects to find it when you're trying to move your AF point.
It could be argued that placing it where your thumb naturally rests would mean it gets in the way of regular shooting, but the net result is that your thumb has to do a bit of contorting to find and use the stick. If you're one of the people who already found the ergonomics of the X-T20 a bit awkward (with the front dial in particular being sat below where your forefinger wants it to be), then this further exacerbates the handholding issue.
And obviously you're either on board with the X-mount cameras' dial-based exposure or you're not. The lack of a mode dial, meaning that you control your shutter speed with the dedicated shutter dial and adjust your aperture using the ring on the lens, is a highly thoughtful and pleasurable way to experience photography. If you're used to the dual dial setup of most cameras, however, this will come as a bit of a system shock.
Fujifilm X-T30: Performance
Ergonomic quirks and exposure mechanisms aside, it's hard to find fault with the files produced by the X-T30. We gave the camera a workout using the new Fujinon XF 16mm f/2.8 R WR lens as well as the reliable XF 18-55mm f/2.8-4 R LM OIS, with the camera yielding excellent results across the range.
Colour rendition is natural, rich and pleasing, with deep blacks and excellent contrast. If anything, though, the blacks might be a little too deep. Recovering shadow detail in dark or underexposed areas of an image (such as this sample portrait) revealed that blacks were quite dense and lacked the amount of data you might expect from other cameras.
We were shooting on a pre-production sample with non-final firmware, so results from a retail model's raw files may yet differ. As it stands, if you work hard to get your exposure right in-camera, then those nice crushed blacks are a great reward. If, however, you like shooting wild and adjusting sliders in post production until you get the desired exposure, you might not have quite as much leeway.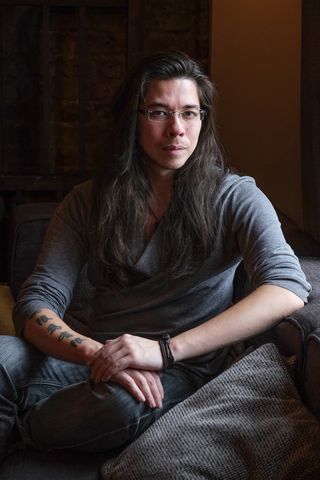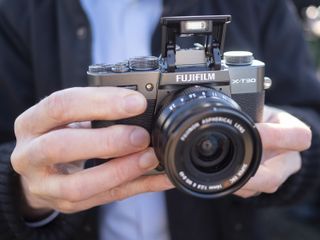 Another quirk, which could well be a firmware issue, is that image rendering when playing back an image that's just been captured feels a bit sluggish – again, using a pre-production camera with non-final firmware. When you've taken a frame and you want to check what you've just shot, there's a lag of a second or so while the camera renders and displays the image (which almost "loads" before your eyes).
After that, scrolling through the captured images is quick and seamless; it's almost as if it takes a moment for the camera to buffer everything into its playback memory, but the lag was enough to be disruptive while we were chimping during our test shoot. It certainly feels like a firmware fix, or perhaps a slightly sluggish sample camera, though we spoke to another journalist who experienced the same issue. Either way, we expect this to be tightened up in the final production release.
The face and eye tracking proved to be very effective at following a subject – a noticeable step up from the X-T20, and a definite boon for the new model. Indeed, it might be a tad too efficient – a couple of times while we were shooting inanimate objects, a person would wander into frame and the X-T30 would start tracking them! We can't wait to put the rest of the autofocus features through the wringer when we get a final review sample.
Fujifilm X-T30: Early verdict
The Fujifilm X-T30 is a pocket powerhouse, with the heavy artillery of the X-T3 in a lean, mean form factor. In many ways a perfect lifestyle camera, its improved autofocus features and photographic performance on par with its big brother also make it suitable for more demanding situations. Certainly 4K at 60fps would be nice, as would an articulating screen and in-body image stabilisation, but this camera already punches above its weight.
The existing ergonomic quirks, along with the dial-based exposure and new joystick, mean that it may not be a natural fit for some photographers' hands or shooting style. If, however, you want a camera that's unapologetically different, delivers drool-worthy images and is so stylish that it hurts, the X-T30 gives you premium performance in a package and at a price that's hard to beat.
Read more:
Fujinon XF16mmF2.8 R WR: small on size, big on style